<!-\\Default - single specific -->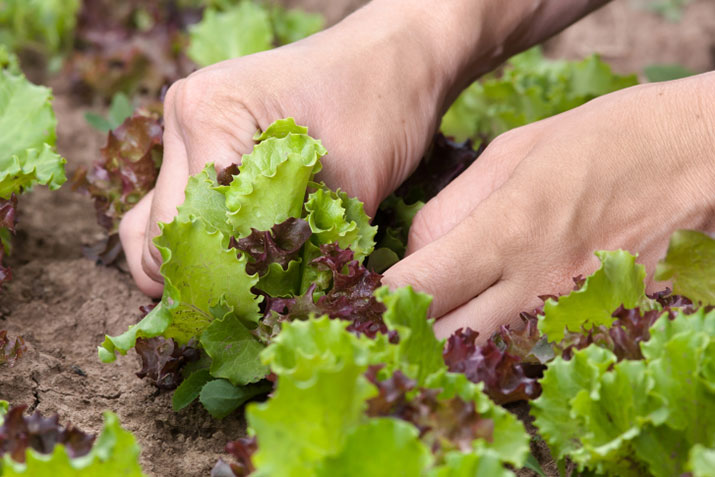 Here's a vegetable that most everyone uses! Great in salads and sandwiches and with its vitamins, minerals – and even protein – it is considered good for your skin, heart, nerves and more. It's a great addition to the home garden – even if that means growing it in a pot on a balcony! From the stiff upright romaine lettuce to soft rounded heads of butterhead and the loosely bunched leaf lettuce types, you can grow many kinds and not get bored with this often overlooked vegetable.
Growing
All lettuce tend to prefer partial shade and cooler weather, growing best in spring and fall. If you only have a very sunny patch to work with, create some shade by growing tall plants, such as tomatoes, on the sunny side. If the weather gets very hot, lettuce may bolt (go to seed) sooner than expected so get ready to harvest if need be.
Plant in loose rich soil in the ground - or in pots if your garden is the patio or balcony variety. You can also start ahead of time indoors, about four to six weeks before the last spring frost date and harden off around that frost date. The seeds are small and only need about one centimetre of soil on top. Try sowing more lettuce seeds every two weeks for a continuous supply. You can help keep the plants growing in mid-summer cool with adequate watering in the morning and, as suggested above, in the shade of other plants that will have matured by then.
If growing in a large garden space, you'll probably appreciate growing in rows, for ease of harvesting. Otherwise, raised beds may be small enough to sow the entire area, thinning out as they mature. Try 'companion planting' by growing chives or garlic in between rows to discourage potential pests.
Harvesting & Storing
You can harvest lettuce a few ways. One is to pull the entire plant out, cut off the roots, wash the leaves and store. But if you want your plant to continue producing, cut about 2" above the soil as lettuce will usually regrow leaves. Alternatively, you can cut off a few of the outer leaves as you need them, leaving most of the plant intact to continue growing.
Note that lettuce is a cool weather plant and excessive heat will cause it to bolt, where leaves get bitter as the plant goes to seed. You can avoid bolting by growing lettuce in the early spring and end of the summer. If you can't (or simply want a continuous lettuce supply), try growing lettuce in pots and moving to the shade on days that are expected to be excessively hot and sunny. For lettuce in the ground, consider covering with an old sheet resting on posts to allow for air circulation or plan ahead and plant on the shady side of tall summer plants like tomatoes. If your plants do bolt, all is not lost as you can save its seeds for next year.
Lettuce can be stored in the fridge after washing with cold water and gently patting dry with a towel. Julie Child, the infamous chef of the 1970's and 80's, liked to lay washed leaves on a clean and cut-to-size sheet and gently roll up and store in the fridge. Other ways are to place in a large bag or plastic container with a paper towel which keeps the air moist but prevents it from sitting on the leaves for days at a time. Of course, for even fresher leaves, you can pick and eat as needed.
Uses
Lettuce is mainly used in salads although you can also use large leaves as an alternative to bread wraps, with small amounts of egg or other salad mixture.
<!-\\Default - single specific -->