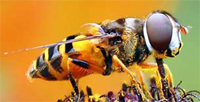 <!-\\Default - single specific -->
Photo: Hamiza Bakirci
By Terri-Lee Reid
The next time you see what appears to be a bee or a wasp hovering above a flower, take a second glance. You may be surprised to learn it's not a bee or a wasp at all, but rather a hover fly.
Hover flies, also called flower flies or syrphid flies, are yellow or white with black stripes, have large eyes and range in size from 5–18 millimetres. Easily mistaken for a bee, a hover fly can be distinguished from a bee by its flat abdomen, short antennae and one set of wings (bees have two sets). Hover flies also don't sting; this fact alone makes them a favourite for many people!
Hover flies are so named because of their ability to hover in one spot — like a helicopter! This takes a lot of skill because these small fliers have to overcome many factors, such as the wind, to keep their position. It also takes a lot of effort — their wing beats have been recorded at 1,000 per second.
It's a little-known fact that adult hover flies are highly important pollinators that feed on nectar from a variety of flowering plants, such as goldenrod and coneflower. The larvae of some species act as natural insect controllers, feeding on aphids, scale insects, mealybugs, thrips and leafhoppers. In fact, one larva can consume hundreds of aphids!
Hover flies lay whitish-grey eggs on plants that are infested with aphids or other soft-bodied prey. In about three days, the eggs hatch into grey or green slug-like larvae that immediately begin feasting on aphids. In one to four weeks the larvae drop to the soil to pupate, with adults appearing in another two weeks.
Hover flies are most active on warm sunny days where they can be found hovering around flowers. To encourage these pollinators to come to your backyard, plant a variety of native flowers in a bright sunny area that is sheltered from the wind. Open flowers — often packed clusters of tiny flowers —are most attractive to these flies. Some good choices are goldenrod, aster, Joe-Pye weed, coneflower, yarrow, blanket flower and coreopsis, and avoid using pesticides. Leave a few untidy corners in your garden to provide egg-laying sites.
By attracting hover flies to your garden you're already fighting insect pests with a natural and native pest control — hover fly larvae! So, next time you're in your garden, take a closer look! That "bee" or "wasp" just might be a hover fly.
<!-\\Default - single specific -->