Wild About Birds
Surely some of the most watched and beloved of Canada's wildlife species are the birds we see in our backyards. Robins and woodpeckers, hummingbirds and goldfinches intrigue us with their antics or cheer us with their songs. We may take our birds for granted, yet they have a lot to teach us.
Browse through a few of our Canadian species in these "At A Glance" fact sheets. Each page has basic information on some of our Canadian wildlife, with links to detailed, reputable sources such as Hinterland Who's Who and the Government of Canada. Don't see a species you need? Comments or questions? Let us know!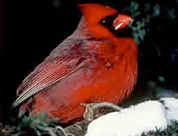 Northern Cardinal
The northern cardinal is a medium-sized songbird, with males slightly larger than females. Males are bright red with a black mask around their red bill and a prominent crest on the top of their head. Females are olive brown with red on their wings, tail, and crest, and a red bill. Juveniles are similar in colour to females but have a black bill and a shorter crest. Colouring plays an important role in the lives of male northern cardinals. Males that are brighter red are more successful than their paler counterparts. They have greater reproductive success, get ranges with better food supplies, and are able to feed more frequently.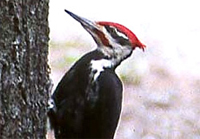 Pileated Woodpecker
At an average 18" in length, the pileated is the largest woodpecker in Canada. These colossal birds, with their striking red crest and resemblance to prehistoric pterodactyls in flight, are thought to be the inspiration for the once popular cartoon Woody the Woodpecker. As Woody had his loud laugh, pileated woodpeckers also make noise to match their size. Their drumming, reminiscent of construction machinery, can be heard up to a kilometre away. It is fairly easy to recognize a pileated woodpecker by its large size and the red crest on its head. The body is predominantly black, with thick black and white stripes reaching from the bill to the wing and chest area. The red 'moustache' along the cheek distinguishes males from females.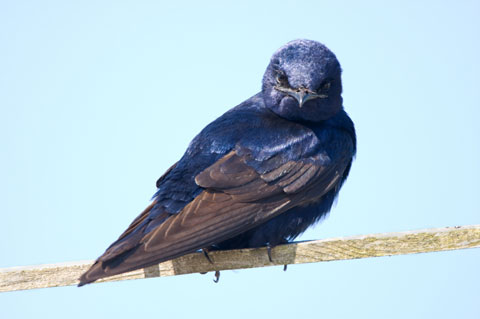 Purple Martin
The Purple Martin, Progne subis, is a conspicuous bird in many populated areas of North America during spring and summer. Averaging 17 to 20 cm in length and a wing span of 9-41 cm, it is Canada's largest swallow. The life span of this swallow is one to five years. The Purple Martin resembles other swallows in having a slender body, long wings, and a wide beak. Males show a shiny blue-black coloration on sunny days. Females are lighter in colour, with a pale grey throat and belly.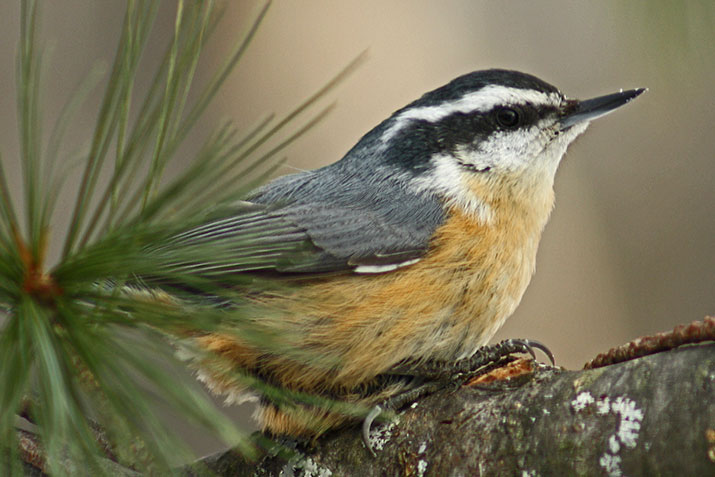 Red-breasted Nuthatch
Red-breasted Nuthatches are small birds reaching about 4.5 inches in length with a thin black bill and short tail. They have a black and white striped head, white throat, grey back and rust-coloured belly.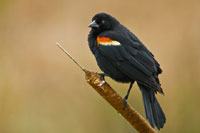 Red-winged blackbird
The red-winged blackbird is a medium-sized song bird, ranging in size from 17 to 23 centimetres, with a very distinct call. Males are a sleek black colour with bright red patches on the tops of their wings. These red patches are called epaulettes and are sometimes less visible while the bird is perched, when it only shows the slight yellow band found below the red epaulettes. Young males are often a dark brown colour and appear as if they are molted before they mature; however, they still retain the red patch on the shoulder. Females are less distinctive with their brown- and white-striped backs and white- and brown-striped abdomens. Their colouring often causes them to be mistaken for other species of blackbird or sometimes for sparrows.
Rose-Breasted Grosbeak
With most birds, males are more brightly coloured, and this holds true with the rose-breasted grosbeak. The males are the most attractive with black backs and heads, white rumps and bellies and rose triangular patches on their breasts. The females, however, are not as conspicuous. Females have brown streaking on both their pale under parts and darker backs. Rose-breasted grosbeaks are said to have one of the prettiest calls. It is comparable to that of the American robin but with a more melodic sound.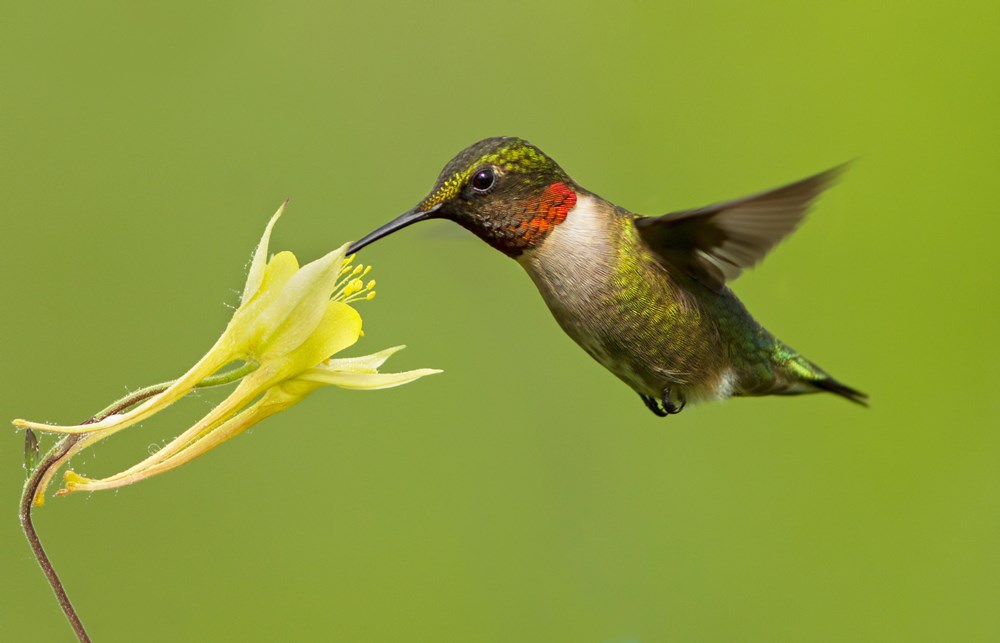 Ruby-throated Hummingbird
Approximately 9–10 cm long. Adult males are metallic green on the upperparts, iridescent ruby red on the throat, white on the underparts and green along the sides. Adult females look similar to males but with a white throat, greyish belly and buff along the sides of the belly, sometimes with a little red on the throat. Immature males look similar to females but with red streaks down the throat.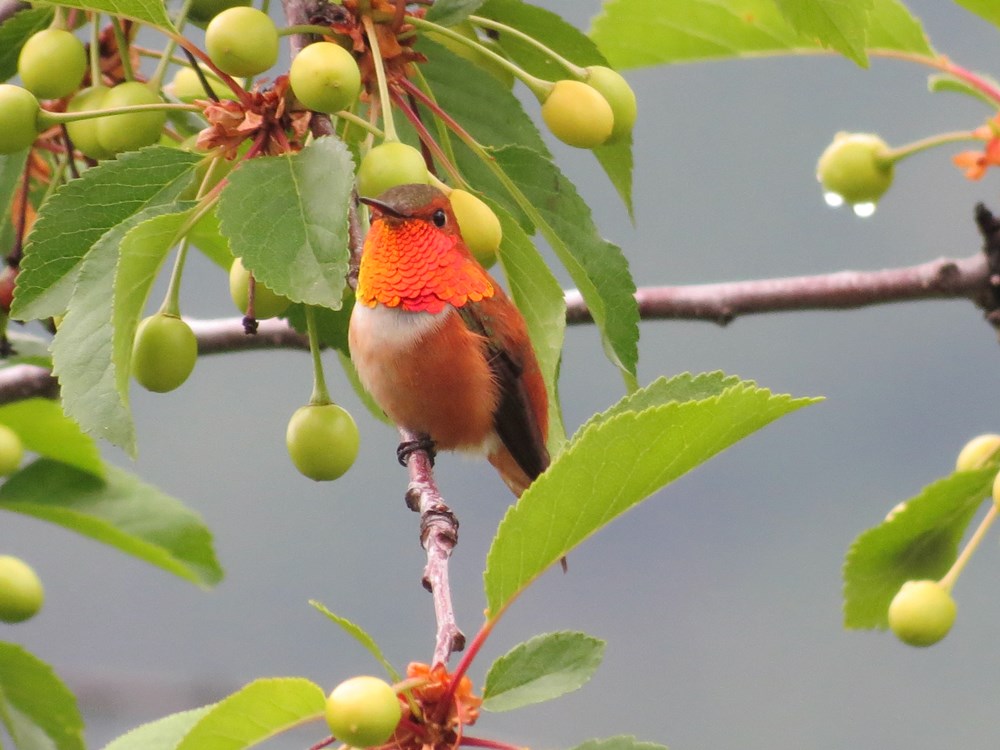 Rufous Hummingbird
Approximately 9.5 cm long. Adult male upperparts are mainly reddish-brown with dull green on the top of their head and a white patch behind the eyes. Their throat is iridescent orange-red and has white at the top of their breast and parts of the belly; the rest of its underparts are reddish-brown. Adult females are similar to males but paler and greener; their throat is white with dark and/or iridescent spots of orange-red. Immature birds resemble the females, but immature males start to show reddish-brown upperparts before their throat colours develop.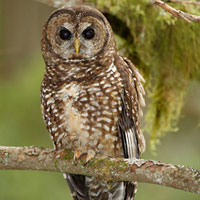 Spotted Owl
The Northern Spotted Owl is a fairly large, brown owl, 40 to 48 centimetres long, with a puffy round head and no ear tufts. The chocolate to chestnut brown feathers of the head, neck, back and under-parts have many circular or irregular white spots, for which this attractive owl is named. The Northern Spotted Owl has large, round facial discs with dark outer rims, dark brown eyes and a yellowish-green bill.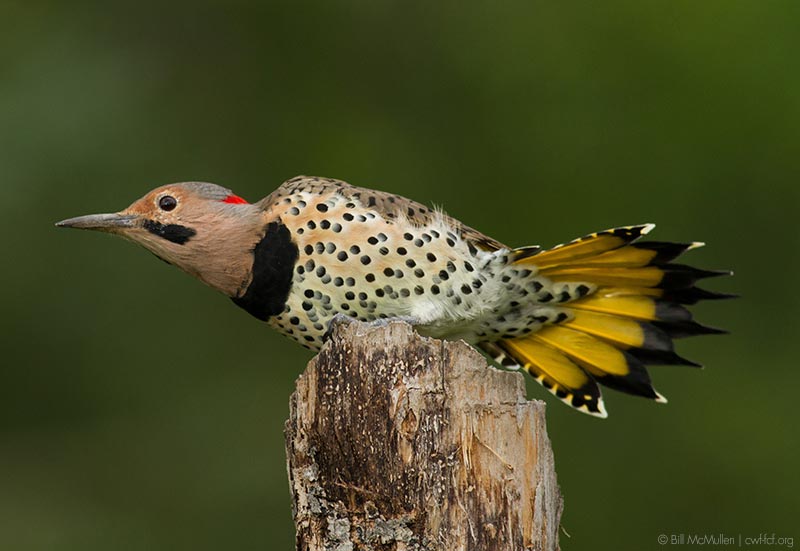 The Northern Flicker
Northern Flickers are a mid-sized woodpecker reaching approximately 32 centimetres. There are two types, the more widely spread Yellow-shafted Northern Flicker and the Red-shafted found mainly in southern British Columbia. Both have a spotted breast, black breast band below the throat, black barring on their backs (lines that run across their backs from wing to wing) and white patch on their rump, visible in flight. The Yellow-shafted males have a red patch at the back of their heads, a black stripe down the side of their brown face and brilliant yellow under their wings and tail. Red-shafted males, however, lack the red patch on the back of their heads, have a red stripe down the side of their grey face and a bright orange-red colour under their wings. They also have a bit of white around the black breast patch. Females of both sub species appear the same except for the lack of the red or black stripe down the side of their face. In areas where both sub species are found close they sometime hybridize making identification tricky.
For more species, visit Hinterland Who's Who, a joint program of the Canadian Wildlife Federation and Environment Canada.