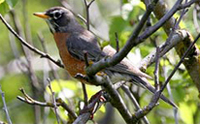 Scientific Name:
Turdus migratorius
Description:
The American robin is the largest thrush in North America.
Males are not only more vocal than females, but also slightly larger and more brightly coloured. Adult American robins have grey-brown backs, characteristic reddish breasts, white bellies, white chins, yellow bills and throats with dark streaks. Juveniles have dark speckles on their backs and on their cinnamon-coloured breasts.
Photo Gallery:
(Please note — these photos are unverified images submitted by members of the CWF Photo Club.)

Range:
Found throughout North America, the breeding or summer range of the American robin spreads across every province and territory of Canada. During the winter, most migrate as far south as southern Mexico and Guatemala. However if food is still available, some may stay to brave our cold Canadian winters.
Diet:
The American robin's diet is made up of approximately 40 per cent invertebrates and 60 per cent fruit. During the spring and summer, it eats invertebrates such as earthworms, caterpillars and beetles, and in the fall and winter switches to fruits such as viburnum, sumac, chokecherries and tomatoes. Young are fed invertebrates including grubs and earthworms.
Behaviour:
American Robins begin to arrive at their breeding grounds in southern areas of Canada in early March and continue to arrive at northern breeding areas until as late as mid-May.

The female chooses the nest site and builds the nest. She takes from two to six days to build the nest, making an average of 180 trips a day, with mud or grass, during the peak building period.

In southern Canada, the first clutch, or set of eggs, is laid in late April or early May. This is commonly followed by a second clutch and, at times, when conditions are favourable, a third. Nests may still contain eggs in early August. A clutch of three or four eggs is common.

The eggs are the familiar robin's-egg blue, though white ones, rarely brown spotted, do occur. The female continues incubating the eggs for an average of 12 days.

The nestling period lasts from 13 to 16 days. The next clutch is usually started about 40 days after the first egg of the year.

The young weigh about 5.5 g when they hatch. Fed by both parents, they each receive an average of 35 to 40 meals a day.

When they are about 13 days old, the young leave the nest, travelling up to 45 m on the first day. The young become independent of the parents at four weeks.

American robins fall prey to many predators. Eggs and young are common prey for squirrels, snakes and birds, such as crows, ravens and blue jays. In addition, adults are lost to cats, owls and hawks. With so many predators, it's not surprising that American robins only live an average of two years.
Primary Ecosystem Roles:
While American robins can sometimes cause damage to crops, they are mostly beneficial in that they aid in seed dispersal and help control insects, such as caterpillars, weevils and beetles.
Notes:
The American robin is one of the few species that benefits from increasing urbanization — forest loss actually increases its breeding habitat. It can be found in wooded areas, around towns, on lawns, and in gardens and fields, and builds nests in shrubs and trees.
More on this Species:
References:
Hinterland Who's Who
---

This content is from Hinterland Who's Who, a joint program between the Canadian Wildlife Federation and Environment and Climate Change Canada. For more species fact sheets, videos and sound clips, please visit hww.ca

photo: US Department of Fish & Wildlife
By Terri-Lee Reid
It is important not to use pesticides because American robins spend a lot of time on our lawns feeding on earthworms and other invertebrates. If you add fall leaves as mulch in your flower beds, you will give them some additional foraging areas.
Robins love fruit, so provide them with cherry, crab apple, grapes, chokecherry, hackberry, elderberry, holly, serviceberry, dogwood, viburnum and other berry-producing trees and shrubs. Don't forget to add fruits that will still be around for those early spring arrivals. Sumacs are great for that time of year when a late snowfall can play havoc with a robin's chance of finding insect prey.
Robins like to nest in shade trees, often choosing balsam poplar, alder, apple or maple trees. However, early nests are often placed in coniferous trees, such as spruce, fir or hemlock. If you are hoping for some baby robins on your property, be sure to add at least one or two of these trees.
In trying to attract the American robin and other songbirds to your property, always remember the three basic principles for attracting wildlife — food, water and shelter. By encompassing all three of these concepts into your backyard, you will be helping songbirds throughout the year. Further information on these principles can be found in our Attracting Wildlife section.