Here are several ways of building and installing your own bat house. We recommend downloading this "how to" PDF, though the options below are also approved.
The scarcity of suitable roosting sites threatens bats' survival. Putting up bat houses is a great way to help bat populations. To increase the chance of enticing bats to take up residence in your bat house(s), consider the following:
Temperature is a critical factor in roost selection. In Canada, bat houses should receive at least ten hours of direct sun each day, and more is better.
Mount bat houses on poles or on the side of a building at least 12 feet (4 metres) above the ground (the higher the better). Houses mounted on trees are more difficult for bats to find and more vulnerable to predators.
Bats need to drink water every night, so houses located less than a quarter mile (400 metres) from a water source, such as a stream, river, or lake, have the greatest success in attracting bats.
Bats like a clear swoop zone to get in and out of their roosts, so avoid placing the house in an area where there are a lot of obstacles, such as tree branches.
Placing two or more houses in one location allows bats to better respond to changes in temperature by allowing them to move between the houses as needed.
Do not mount houses close to bright lights.
In Canada's cold climate, bat houses should be painted black or dark brown to increase the inside temperature. Use water-based paint or stain, not oil-based. Apply three coats.
Be sure to use untreated wood for your bat house. Pressure treated wood may contain chemicals harmful to bats.
The inside of bat houses must be roughened to allow bats to grip. Create horizontal (not vertical) scratches or grooves. Space cuts roughly ½ inch (13 mm) apart and 1/16 or 1/32 inch (1 or 1.5 mm) deep. An alternative is to attach plastic (not metal) screening flat on the wood surface to avoid injury to the bats.
Be sure to caulk all seams, especially around the roof, to prevent drafts and keep temperatures stable.
Use exterior grade or galvanized screws rather than nails.
If after two years your bat house has failed to attract occupants, try moving it to a new location.
two-chamber rocket box | hot under the collar

Two-chamber rocket box
Materials List
One 2-inch (5-cm) inside diameter metal pole (2½ inch (6.4 cm) outside diameter), 20 feet (6 metres) long
Two 1 x 10-inch x 8 feet rough-cut cedar or pine (¾ inch x 9¼ inch x 8 feet finished). Cut each board into two lengths of 36 inches (90 cm). Keep one leftover piece to make the roof cap.
Two 1 x 8-inch x 8 feet rough-cut cedar or pine (¾ inch x 7½ inch x 8 feet finished) cut to ¾ inch x 6¼ inches x 8 feet. (Keep leftover strips to make spacer blocks.) Cut each board into two lengths of 42 inches (105 cm).
Two 1 x 4-inch x 8 feet rough-cut cedar or pine (¾ inch x 3½ inch x 8 feet finished) cut to ¾ x 3¼ inches x 8 feet. Cut each board into two lengths of 45 inches (112 cm).
One box of 100 deck screws (Robertson) - size 8 x 1¼-inch
One box of 100 deck screws (Robertson) - size 6 x 1-5/8-inch
One tube exterior latex caulking (paintable)
Two quarts (2.26 litres) flat latex exterior paint - black or dark brown
One sheet-metal roof (as illustrated) or one square plastic roof vent (more economical and easier to find)
One fence bracket to fit the pole
Four 2-inch (5-cm) screws
Instructions
Rocket boxes were originally designed to fit over a 4 x 4-inch (10 x 10-cm) wooden post (untreated). To increase durability, the following directions replace the post with a wooden pole sleeve attached to a metal pole.
You can try mounting the rocket box on a building, but place it on the south or southeast side to get the most sun. Close off the bottom of the pole sleeve with leftover board to keep wasps or hornets from taking up residence.
The two-chamber rocket box consists of 3 shells (as illustrated). (The extended length of the inner shell and pole sleeve acts as a landing surface for the bats.) Each shell is a perfect square.
The heights given for the box shells should serve as a minimum. The box can be made taller.
¾-inch (20-mm) finished size of lumber is required because ¾ inch (20 mm) spacing is critical for the roosting chambers. If another size lumber is used, the dimensions must be adjusted accordingly.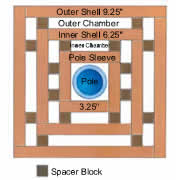 Pole Sleeve
Assemble the four 45-inch (112-cm) boards into a box using 1-5/8-inch (4-cm) screws and caulk.
Roughen the outer surface on each side.
Cut 40 spacer blocks from the ¾-inch (20-mm) strips of finished lumber scraps, approximately 3 inches (7.5 cm) long. (Helpful hint: when marking off for cutting, indicate the side to be attached to the box to give ¾-inch spacing for the chamber.)
Cut 8 spacer blocks from the ¾-inch (20 mm) strips, approximately 6 inches (15 cm) long.
Drill one 1/8-inch (3 mm) hole at both ends of each spacer block to prevent splitting. Smooth any rough edges on the spacers.
On three sides of the pole sleeve, attach two spacer blocks (one on the left, one on the right) at the top and center, using 1¼-inch (3.1-cm) coated deck screws (two screws per spacer). Attach the two bottom spacers 8 inches (20 cm) from the bottom of each of the three sides.
Repeat this procedure on the fourth side using four of the 6-inch (15 cm) spacer blocks at the top and 8 inches (20 cm) from the bottom.
Inner Shell
Roughen both sides of each of the four 42-inch (105-cm) boards.
In two of the boards, cut a 1½-inch (3.75-cm) circular hole using a 1½-inch (3.75-cm) hole saw (for bat passage between chambers), centered horizontally, about 10½ inches (26 cm) from the bottom end. Sand the hole to remove any splinters. The passage holes will be on opposite sides of the house.
Assemble three of the boards into an open box using 1-5/8-inch (4 cm) deck screws and caulk.
Place the pole sleeve into the inner shell (bat passage holes to the bottom) so that the side of the pole sleeve with the longer spacer blocks is to the open side. Align the top of the pole sleeve with the top of the inner shell.
On the fourth 42-inch (105-cm) board, mark the position of the top and bottom spacers.
Attach the fourth board to the inner shell using 1-5/8-inch (4-cm) deck screws and caulk.
Secure the inner shell to the pole sleeve by screwing two 1-5/8-inch (4 cm) deck screws into the centre part of each of the 6-inch (15-cm) spacer blocks. Ensure the screws do not protrude into the roosting chambers.
Attach spacer blocks to the outside of the inner shell following the same directions as for the pole sleeve.
Outer Shell
Roughen the inside surfaces of the 36-inch (90-cm) boards.
Assemble the outer shell and attach to the inner shell following the above instructions. (Note: do not drill bat passage holes into the outer shell.)
Roof
For the roof cap, measure the outer shell and cut accordingly using the leftover wood from your 9¼-inch (23.5-cm) wide board. (Note: This will not cover exactly, so you must centre the piece, then caulk and screw.) Caulk all edges and attach to the box with 1¼-inch (3.1-cm) deck screws. Carefully drive the screws in the top edges of the outer shell to prevent them from straying into roosting chambers.
Attach a sheet metal roof, pop riveted, caulked, and painted black.
OR
Unclip the roof vent top from the bottom piece. Apply caulking generously to the underside of the vent top and set firmly onto the roof cap. Do not screw on.
Final Steps
Paint the outer surface of the box.
Attach the fence bracket to the bottom of the pole sleeve using four 2-inch (5-cm) screws.
Place the pole into the fence bracket and tighten with the bracket screw.
These plans were adapted from a design by provided by Bat Conservation International (BCI). They have several plans and other great information on their website www.batcon.org. Questions and success stories can be directed to BCI's Artificial Roost Coordinator at bathouses@batcon.org.
CWF would like to thank Bat Conservation International for their help. For more information on bats or bat houses check out their very informative website at www.batcon.org.
Bats meet birds
Imagine ...bats and birds living together. Often coexisting in snags and artificial structures, these odd housemates get along remarkably well. Most bats and birds work separate shifts - nocturnal and diurnal - and are not at risk of infecting each other since they carry different parasites. The best way to preserve this happy marriage is to save snags. (These standing dead trees are also homes to countless other creatures.) The next best resort is to provide artificial accommodations.
Rather than building separate structures, why not meet the needs of both bats and birds in a single structure with different compartments? The following design will lodge big brown, little brown, pipistrelle, and other colonial bats, plus migratory birds as tree swallows and great-crested flycatchers. With modifications, it will house other cavity-nesting birds, from wood ducks to woodpeckers.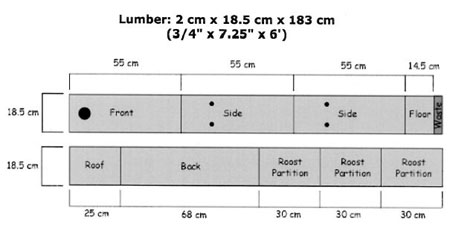 Use 2 cm (3/4") softwood lumber, such as cedar or pine. Do not use pressure-treated wood. It can be toxic to young bats and birds.
Cut the front, sides, floor, roof, back and partitions.
Bore an entrance hole in the front panel (4 cm in diameter for bluebirds and tree swallows, 5 cm for great-crested flycatchers) 4 cm from the top.
Drill small drainage holes on the side panels, just above the floor.
Saw shallow, horizontal grooves (2 mm deep and 1 cm apart) on the inner surfaces of the bat section, including the walls and roost partitions, to enable bats to crawl inside.
Assemble the pieces according to the construction plan, using 4 cm (2") coated flat-head screws and bond-fast glue. The opening between the roost partitions should be 2 to 2.5 cm wide.
Paint the outside of the structure dark brown or grey.
In early April, choose a site near a lake, pond, marsh, stream, or river with plenty of insects, ideally inhabited by the species you hope to attract.
Hang the box 3 to 5 m off the ground on a tree-trunk or, preferably, the side of a building that faces east or southeast and catches the morning sun. The spot should be sheltered from the wind and at least 6 m from neighbouring trees. To prevent house sparrows and European starlings from moving in, leave the entrance to the upper compartment covered until bird migrants appear in spring.
Have patience. Your structure may remain vacant for a year or two, but its dual purpose doubles the chance that bats and birds will eventually move in.
Clean the box each fall and ensure that it stays in good repair
Hot under the collar
Much to the surprise of wildlife biologists, sheet-metal collars wrapped around trees not only protect nesting birds from predators but also create ideal roosts for bats. Corrugated metal, loosely fitted, allows bats that normally roost under bark to regulate their temperatures by crawling around a tree to the sunny or shady side. Unlike loose bark, these metal collars can by placed where needed and last for years. They should be at least a metre wide, secured along the seam with aluminum nails, and have enough space underneath (two or three centimetres wide) that bats can enter and move around