| | |
| --- | --- |
| ASK THE RIGHT QUESTIONS OF AN ECOTOUR OPERATOR | Carbon offset: unlimited tonnes |
Goal — As writer Katharine Fletcher found out in the spring/summer 2008 issue of Checkerspot, asking questions can be a traveller's best tool to determine whether ecotourism operators are authentically green or just using sustainability as a marketing ploy. Here's a list of questions to help you decipher whether your prospective tour company lives up to their "eco" title.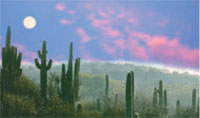 Photo: Buddy Mays/Corbis
Action
— Don't be shy; spending money and time on a getaway means you deserve to know what you're getting into. So go ahead, read or
download our list
and ask away!
Questions to ask an ecotour operator:
How do you handle your waste?
How do you conserve water?
How do you cut down on energy use?
Do you support the local community by using locally produced goods and hiring local employees? If so, please give me some examples.
Tell me what you are most proud of with regards to your commitment to the local environment?
What do you think you could improve upon?
Finally, do you have a written policy that affirms all of the things you have just told me?
Results and Impacts — Putting your dollar where your morals lie is one of the best ways to live a climate-friendly life. Supporting true ecotourism operators ensures not only that other companies follow suit but that you have a better experience, too!