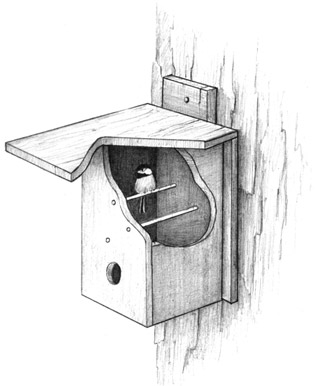 Background
Many species of birds survive cold winter nights and stormy weather inside the hollows of tree-trunks and snags that retain body heat and ward off snow and freezing rain. As more large trees are cut down, however, the need for roosting boxes, especially for larger birds, grows. Birds that will benefit are those that nest and rest in tree cavities. Some make their own such as woodpeckers while others use these pre-made holes, like owls, nuthatches and chickadees. You can help them all by putting up roosting boxes before the cold weather hits.
Procedure
Using 2 cm board, cut one floor panel, one roof panel, two side panels, one back panel, and one front panel. Assemble the pieces. The roosting box compartment is usually about 35 to 45 cm wide, 40 to 50 cm tall, and 30 cm deep, though the overall size is not important.
Use screws instead of nails to make it easier to correct mistakes. Four cm coated flathead screws are best, as they will allow you to open the hinged front panel. The pieces should also be held together with bond-fast glue.
Make several perches out of dowel 0.7 cm or 1 cm in diameter, mounting the perches at varying heights inside the box.
Locate the entrance hole near the bottom of the front panel to stop heat from escaping as it rises. A box for each species is not necessary; one for smaller birds and another for somewhat larger ones will do. As with nesting boxes, different sized entrance holes will attract different species.
Make the box as airtight as possible, with no drainage or ventilation holes.
Put hinges on the front rather than the top, so that the box can be cleaned easily and thoroughly when winter is over.
A latch can be installed to keep the door shut.
Place the roosting box in a well-sheltered spot on the south side of a building or large tree.
Maintenance
When summer arrives, close the box up or put it away to prevent sparrows and mice from taking up residence.