By Stephanie Bonner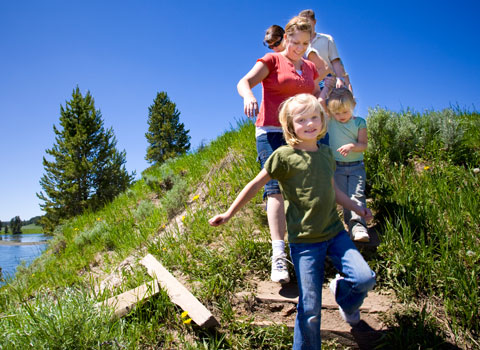 There's no question that Canadians lead busy lives, but how much of what we do involves physical activity? We tend to be on the go just to keep up, with grocery shopping, picking up the kids, tidying the house—and with all that hustle and bustle there doesn't seem to be enough time left over to get outside. CWF wants you to know that taking part in our Walk for Wildlife will make a difference for both wildlife and you! Join the nation on April 10 for our first annual walk.
We're asking Canadians to head outdoors and discover Canada's biodiversity right in your own backyard and then tell us how far you walked for wildlife by logging your kilometres online. Our goal is to have enough kilometres from participants to have walked across Canada from coast to coast, and create national awareness about wildlife conservation and biodiversity. Your walk can begin at your front door, on a nature trail or in a city centre. To learn more about getting started, check out our website. CWF will be hosting two official walks, one in Ottawa and one in Calgary for our inaugural year. But it doesn't end there. No matter where you live, all you have to do is get out and walk and then log your walk at NationalWildlifeWeek.com. We will keep counting your kilometres until May 22, the International Day of Biodiversity.
The United Nations declared 2010 the International Year of Biodiversity. Biological diversity—or biodiversity—means the variety of life on earth. This year, countries across the globe will join together to increase their understanding of and commitment to safeguarding the world's biodiversity. Canadian wildlife and wildlife habitats are feeling the impact of biodiversity loss. Climate change, habitat loss and degradation, and pollution are just some of the factors affecting our world. The woodland caribou, polar bear and lynx are a few of our native species that are experiencing the challenges of adapting to or surviving the impacts of environmental change. We will be showcasing these three species on the Walk for Wildlife website, as they make their way across the map while we work to achieve our goal.
Get Your Walk On
So go ahead and head outdoors! Still need convincing?
Break out of hibernation
Yes, we, too, hibernate. It can be hard to voluntarily get out for a walk in winter when it's -40 degrees outside with the wind chill! But don't you just love that first taste of spring when you almost don't need a jacket? What a perfect opportunity to re-experience wildlife and habitat in bloom.
Encourage others to walk with you
Get your friends and family together and do your walk as a group. Studies show that exercising with others can actually increase your endurance and allow you to go that extra mile compared to doing it alone. What a great way to get reacquainted with Mother Nature and your friends. Spread the word around the office, in the halls at school or on your Twitter and Facebook pages.
Take note of the local wildlife
Communities across the nation are home to a variety of different species. If you take your stroll through the city, it's not likely that you'll come across an elk or a mountain goat or burrowing owl; however, taking the time to recognize your local wildlife could be a fun activity for you and the family to do before you set out. You could even familiarize yourselves with species at risk in your province.
National pride, national awareness
There are many charity walks that occur throughout the course of a year; it's amazing how each cause can bring so many people together. We'd like to think that CWF's Walk for Wildlife will bring Canadians together for wildlife like never before. There are two official walks happening this year, but the real connection will happen when supporters submit their combined distances on the Walk for Wildlife website. So whether you're walking along the mountainous hiking trails of B.C. or the seaside boardwalks of P.E.I., let's do it together. And come back and log your walk as often as you like.
You can do it again, and again, and again
We hope that this walk will be an inspiration to you and those in your life. Although it is often difficult to make time to get outside, we hope that the experience on April 10 will move you to make the time more often once spring is upon us. It's a great way to spend time with the family!