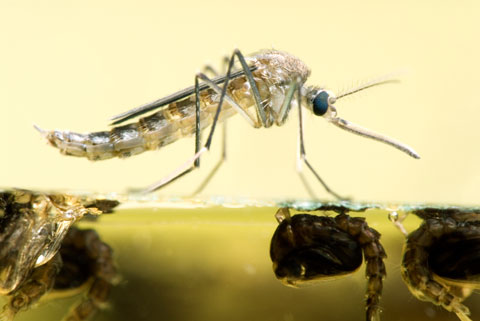 Hankering to make a change? Want to get your hands dirty (or, at least, slightly scuffed)? Take a look at our Take Action Fact Sheets, which will give you the tools you need to make a difference for wildlife — and feel good about yourself!
A Greener Start to the School Year
Can you feel that back-to-school crispness in the air? As September rolls in, so do cooler temperatures and preparation for another busy school year. Throughout the course of the year, kids will utilize a lot of school supplies and materials but that doesn't mean there has to be a lot of waste produced as a result. This month's Take Five focuses on helping you make eco-friendly shopping choices that can minimize your environmental footprint.
Adopt a Watery Spot
Ponds, swamps, and streams are all too often used as dumps. Such illegal dumping poses serious hazards to wildlife.
Alien Alert!
Alien species are plants or animals that don't originate from an area where they're now established. Usually, these uninvited visitors arrive in Canada as a direct or indirect result of human activities.
All the Trimmings
All the wrapping paper, tags and trimmings involved in gift giving makes for a lot of wasted paper come Christmas morning, after the kids have torn apart their presents. With this bow tutorial, you can have an eco-friendly holiday while wowing your tikes in just 12 minutes flat.