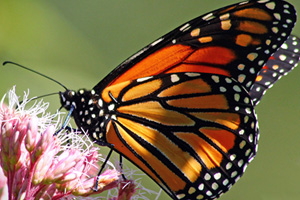 When writing about wildlife or covering wildlife issues the Canadian Wildlife Federation makes the job easier.

August 29, 2019
Slow Down and #HelpTheTurtles
"CWF's Ottawa team collected and incubated over 600 Blanding's, Northern Map and Snapping turtle eggs in the Ottawa area this year," said Rick Bates, CEO. "The release of these hatchings back to the areas where they were found is part of CWF's comprehensive turtle conservation program, which is also working to help mitigate the impact of road mortality on at-risk turtles in Eastern and Central Ontario. In road surveys conducted the last two years in the Ottawa-area, over 1,000 dead turtles were found. These included over 100 Blanding's Turtles, a threatened species in Ontario."

August 1, 2019
CWF calls for National Pollinator Recovery Strategy
The Canadian Wildlife Federation (CWF) is calling for the creation of a national pollinator recovery strategy featuring pollinator pathways and a comprehensive pollinator monitoring program.

July 26, 2019
Unlikely allies come together to help endangered bats
The Canadian Wildlife Federation (CWF) and a broad range of unlikely allies are coming together to help endangered bats. The partners include a wildlife control company, a bat researcher, federal youth employment and training programs, local homeowners, and a local men's wellness group. The unique project, funded by the Ottawa Community Foundation, has the potential to provide habitat for 45,000 at risk bats.







December 17, 2018
National youth conservation program expands after amazing first year
The Canadian Wildlife Federation (CWF) is pleased to announce the expansion of the Canadian Conservation Corps (CCC) with six new cohorts to be announced in 2019.
"We're thrilled with the achievements of the five groups we trained in 2018 and can't wait to bring six more groups of young adults on board in the new year," said Rick Bates, CEO of CWF.
As part of the Canada Service Corps, the nine-month CCC program begins with a wilderness journey which is followed by several months of conservation field experience. As part of the graduation requirement, the youth design their own initiatives to build a better Canada. No experience is necessary to apply to the program and a diversity of applicants are selected. More than 20 national partners have helped to make the program a success.
"Over the last nine months I have had the opportunity to visit nine out of 10 Canadian provinces," said Shannon Anderson, a participant from New Brunswick. "I have dogsledded and snowshoed throughout Algonquin Park. I have climbed my first real mountain. I have touched the Atlantic and the Pacific oceans. I have handed out plants to teachers in Calgary. I have participated in youth service and leadership talks in Toronto. I have chaperoned a youth trip to Northern British Colombia. I have been able to see 25 km across prairie and the largest skies in the world. I have helped create over 11 million walleye and 100,000 splake trout. I have tracked northern pike with a hydrophone. I have taken density of oxygen readings. I have helped film educational videos to raise awareness of aquatic invasive species. I have visited a sharp-tailed grouse lek. I have watched bison roam on some of the last remaining native prairie in the world. I have met people and created invaluable friendships from all over Canada. I have had a lot of fun.