April 11, 2014
By Claire Preston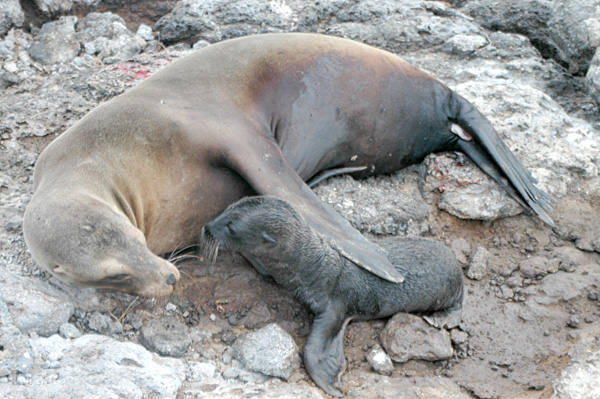 What would you do if you came across a stranded sea lion on a beach? Would your first impulse be to help the poor creature? Or would you immediately react and call the authorities to deal with the situation at hand? This scenario arises more often than we'd like in coastal areas, and leaves many people scratching their heads as to what to do.
Marine Mammal 911
But what exactly is a marine emergency? There is some confusion as to what constitutes an emergency situation, and when it is important to call the authorities. An emergency is classified as either when an animal is in danger, or when an animal is a danger to humans. Some examples include animals that are:
stranded on a beach or upriver away from the ocean
entangled in fishing gear
stuck on manmade structures like wharfs
When an Emergency Isn't an Emergency
Another important thing to recognize is when an intervention is actually needed. For example, if you came across a lone seal pup on a beach, it is entirely natural to want to help the young animal. However often seals will come to land to nap, and mother seals will leave their pups to snooze while they hunt for their next meal. In this case, the seal pup should be left alone to doze and wait for its mother to return.
When it's Too Dangerous to Intervene
Sometimes an animal in distress can also be dangerous to untrained personnel who are simply trying to help. Without the proper tools or training, it can be more detrimental to try and help untangle an animal, rather than wait until the authorities can arrive and tackle the situation.
When it's Too Late
If you ever happen upon a carcass that has washed up on shore, it is important not to touch it and leave this to the professionals as well. As sad as it is to see a deceased marine animal, these situations can provide an opportunity to expand our knowledge of the natural history of marine animals through study of the carcass; from this we can potentially determine their cause of death and develop a better understanding of the level of threats these animals face.
Who You Gonna Call?
So who should you call in an emergency like this? In all coastal regions of Canada, marine emergency response organizations exist who respond to calls from the public regarding these types of emergencies. At present when someone calls a regional marine animal emergency hotline, someone will gather the information (what, where, when etc.) and attempt to make an assessment. They will then organize a response with the corresponding unit in the area.
When personnel respond to the emergency there are a couple of ways in which they can act:
BEST case scenario: the animal is rescued, whether that means being detangled from fishing gear or helped back into the water
WORST case scenario: sometimes the animal is in far too much distress and nature must be left to take its course
One of the biggest challenges faced by many of these regional organizations is having enough appropriately trained personnel who can get to emergencies efficiently. Many of these emergency services are run by volunteers and are in need of help to ensure that their hard work can continue to help the marine animals who find themselves in these distressing situations. These networks need help in:
funding
volunteers
training
education for the general public
What We're Doing
The Canadian Wildlife Federation is working with the regional marine animal response groups to develop a national program that will act as a central network to assist the operation of these non-governmental organizations that respond to dead or distressed animals, to tell their stories, and to promote the importance of this service.

CWF has applied for funding from the Shell Fuelling change program to help get this network up and running as soon as possible. This program will ensure that these highly trained individuals and organizations in Newfoundland, Maritimes, Gulf of St. Lawrence, Quebec and British Columbia are supported when they get a call reporting a entrapped, entangled, and injured or distressed marine animal.