May 15, 2008
By April Overall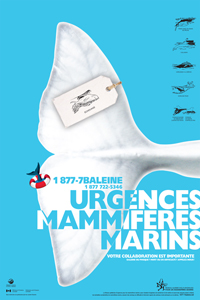 The Gulf and Estuary of the St. Lawrence is a hot spot for an array of marine mammals – from whales to seals. In 1985, a group of ten naturalists, researchers and volunteers set sail on an adventure that has lasted over 25 years. They founded GREMM, an organization dedicated to scientific research and education on the St. Lawrence's marine mammals.

Since its inception, GREMM has worked diligently to help marine mammals at risk and has partnered with governmental departments and other non-profits to support the Quebec Marine Mammal Emergency Response Network. Last year, the 24 hour call centre received 447 calls from people who've spotted a marine mammal in trouble. On average, 60 per cent of the calls are about seals while the remaining 40 per cent are for whales.

The Canadian Wildlife Federation has offered GREMM $37,000 to create posters which will be plastered all over Quebec, from Montreal all the way to Blanc-Sablon, including the Magadlene Islands and the Gaspesie region. The hope? More calls. More calls to the network means more marine mammals can be saved. So if you live in the region or are thinking of visiting this summer, keep your eyes peeled and call 1.877.722.5346 if you see anything fishy.

What type of thing should you call in about? We asked Véronik de la Chenelière , the GREMM's Call Centre Manager, for some insight:
Q: Why is the call centre so important?
A: Marine mammals are charismatic animals, ambassadors of a unique and rich environment. When people call us about a seal or a whale, dead or in distress, it is a unique opportunity to inform them about those animals, their needs, their world, and what we can do to help them. And our work is similar to a detective's work: we need to ask the right questions in order to gather a maximum of information and get a good idea of the situation, in order to take the right decisions afterwards.

For some fragile species, helping just one animal can make a difference for the recovery of the whole population. For other, more abundant species, helping individual animals can be a great way to develop greater skills helping marine mammals and extraordinary opportunities to bring their fate into the public eye.
Q: What does the call centre do when they receive a call about a marine mammal stuck in fishing gear?
A: It is our top priority. Teams with equipment and training are sent to free the whale and recover the fishing gear. They are Fishery Officers from the Department of Fisheries and Oceans Canada, or whale researchers. Depending on the species and the situation, the team can act on the spot, or gather more information in order to consult specialists before anything is attempted. It can be very dangerous. If the fisherman is present, it is a plus, because he can tell us more about the fishing gear and help free the animal.
Q: What about when a marine mammal is stranded?
A: If it is a seal, the situation is likely normal and our job is simply to reassure the caller and indicate how to behave appropriately around the animal- stay away, keep your dog on a leash and of course never attempt to touch, feed or "save" the animal in anyway. Sometimes, in high-traffic areas, we will put up posters with this information. It helps ensure good behaviour by everybody. In some cases, if it is impossible to ensure public and/or the animal's safety, a team will be sent to capture and relocate the animal.

If it is a cetacean, the situation is different: a stranded dolphin or whale is in a life-threatening situation. It is in certain circumstances possible to take the animal back to the water, but the operation needs to be done by trained people; to make sure it is done safely for citizens and for the animal. Sometimes, if a whale is stranded, it is because it is already sick, and nothing can be done to save it. Nature should take its course, or it might be advisable to help the animal die peacefully.
Q: Considering that whales and seals are great swimmers and can swim a good distance, how do you deal with marine mammals that have been found far from its usual habitat?
A: Those situations are interesting and we try to document them in as much details as possible. Sometimes, those animals can become in distress: a seal that stays too long in fresh water can become sick, a lone beluga can seek human contact and become at risk for boat collisions, a pelagic species in shallow waters can become stranded, and a whale in an urbanized environment is at an increased risk for boat injuries, entrapment in human structures or stranding. Close monitoring of the situation and public awareness are important for us to decide what actions to take in the given situation.
Q: I know ship strikes are becoming a big problem for marine mammals. What do you do when you receive a call reporting a marine mammal has been hit by a ship?
A: Ship strikes can injure or even kill a whale. The best option is to work on prevention. When a ship strike is reported, we try to document the case (we take pictures, relocate the animal to assess injuries, etc.). If a dead whale washes on shore, we always look for signs of human interactions (ship-strikes, entanglement in fishing gear, etc.). We need more information to help devise the best ways to reduce the occurrence of those accidents in the St. Lawrence.
Q: So when the worst has happened and a caller sees a drifting carcass, why is it important for them to call the centre?
A: Depending on the species, efforts can be made to send a team and take samples or even tow the animal to shore to do a full necropsy. And we try to gather a maximum of information: What type of mammal is it? Where is it? Were pictures taken? In other cases, we will simply report it to the Coast Guard as a navigational hazard; a dead whale can be a big problem for small pleasure crafts.