Canada's gardening e-newsletter for creating beautiful wildlife-friendly spaces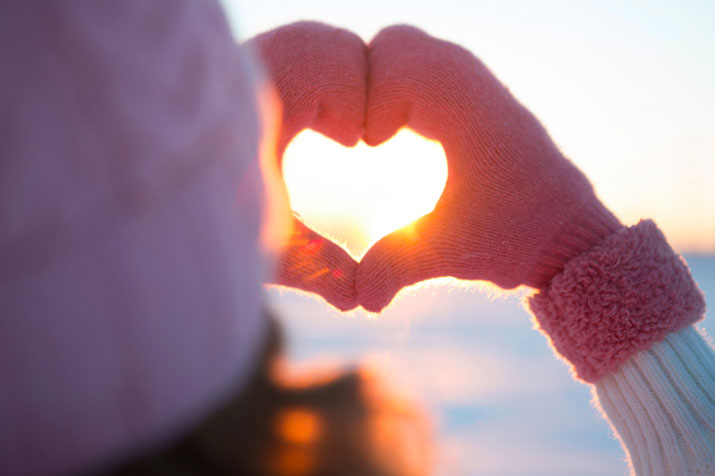 © Photo:Thinkstock
"Keep close to Nature's heart... and break clear away, once in awhile, and climb a mountain or spend a week in the woods. Wash your spirit clean."
~ John Muir



Science has proven that nature is good for your health, from your mood to your immune system…and your heart. As February is national Heart Month, home to Valentine's Day, and for some, Family Day, we thought that appreciating your heart, those you love and spending time together go hand in hand with some fun and healthy time in nature. Even if you can't get out onto a trail due to health or weather, simply taking the time to soak up a scenic view, appreciate the birds in your trees or care for a houseplant can be beneficial.
The Gardening Team
Our Gardens
---
Foskett House Bed & Breakfast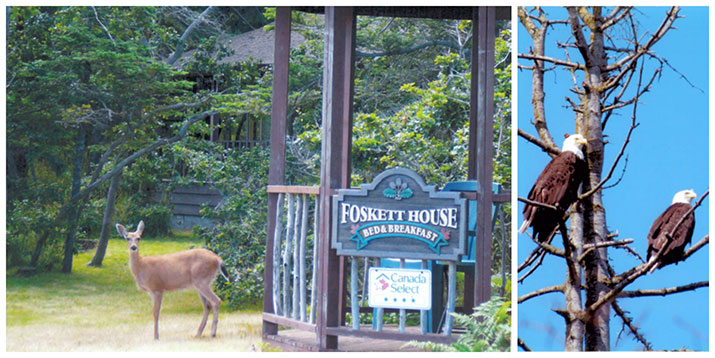 CWF Demonstration Garden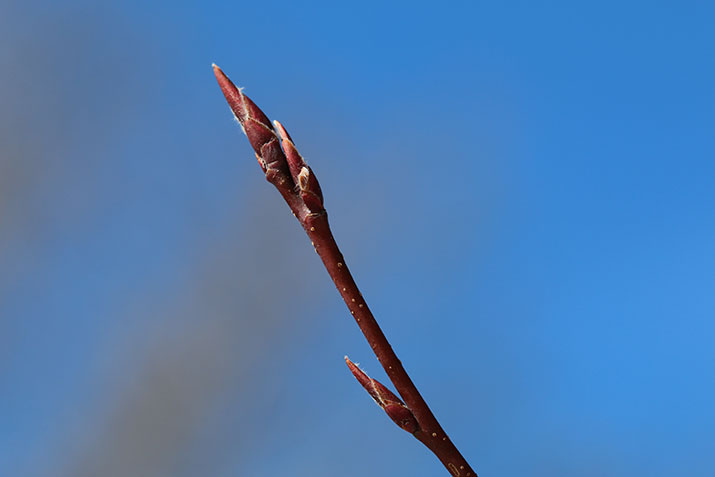 © Serviceberry buds, CWF
Foskett House Bed & Breakfast
This month we're featuring Foskett House B&B in Comox, British Columbia whose property is certified by the Canadian Wildlife Federation as wildlife-friendly. Owners Dove and Michael Hendren have preserved the old growth forest on their five acre land, including a 700 year old Douglas Fir tree that are home to owls and eagles, native flowers and other wild creatures.

Did you know…that BBCanada.com and CWF teamed up in 2009 to give certified members a CWF icon on their individual pages to help travelers wanting a pesticide-free and wildlife-friendly option!
CWF Demonstration Garden
Leaves are a great identifying feature for trees and shrubs, but so are bark, arrangement of branches, buds and leaf scars. Leaf scars are where last year's leaves were attached to the tree and are found below new buds. Buds are formed by the end of the summer and best seen after the current year's leaves have fallen and before the buds open the following spring. Look at their arrangement on the branch, their shape and colour – are they long or rounded, orangey brown or chocolate brown. Explore our garden maps and photos.
Got a picture or video to share? Send them along to contact@cwf-fcf.org.
Flora & Fauna
---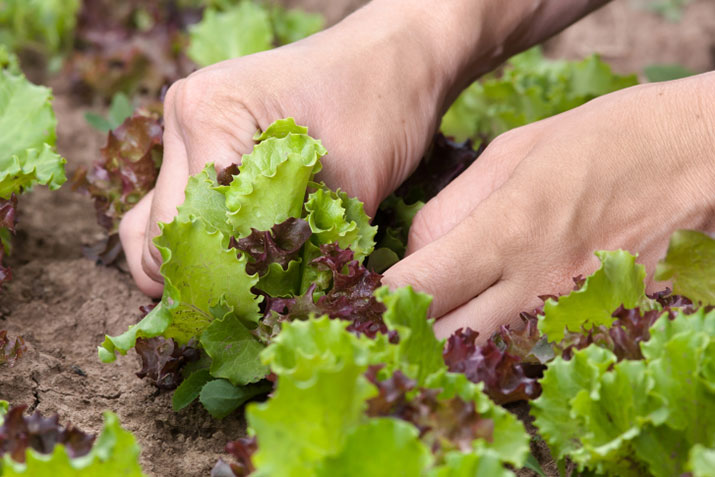 © Thinkstock
Lettuce
Here's a vegetable that most everyone uses! Great in salads and sandwiches and with its vitamins, minerals – and even protein – it is considered good for your skin, heart, nerves and more. It's a great addition to the home garden – even if that means growing it in a pot on a balcony!
For more information on what insects can be deterred by plants, visit our Companion Planting section.
Gardening 101
---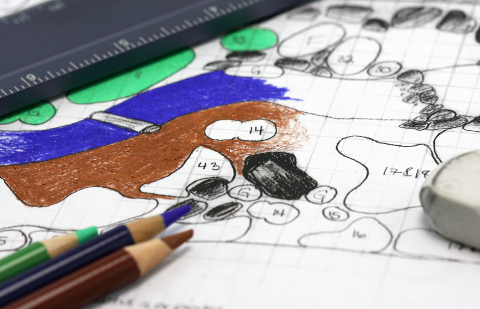 © CWF
Design and Planning
Some wildlife supporters prefer a totally natural look while others enjoy shaping their garden in a formal manner. Both can be beneficial and beautiful. As you plan changes to your green space, consider all angles that you will view your property (a particular room in the house, the road, a patio etc.), ensure you have space for your different lifestyle needs (playing, eating, strolling), choose plants that are suited to the light and moisture of the area and will attract any species you have particular interest in.
Family Fun
---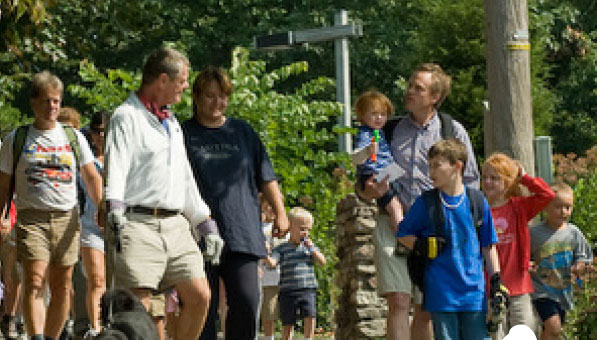 ©
Jon Beard
If you would like to get out into nature more, then come and join a Wild Family Nature Club near you! In the past year 10,000 people have come together through CWF's WILD Family Nature Clubs for children-friendly walks, picnics and more. In doing so, families get connected to a fun world of outdoor exploring — and to other families doing the same. There are currently eight clubs across the country and several more in the process of forming. Click here to find one near you. If you wish to start a club near you, we provide a kit to help you get set up.
Three Things
---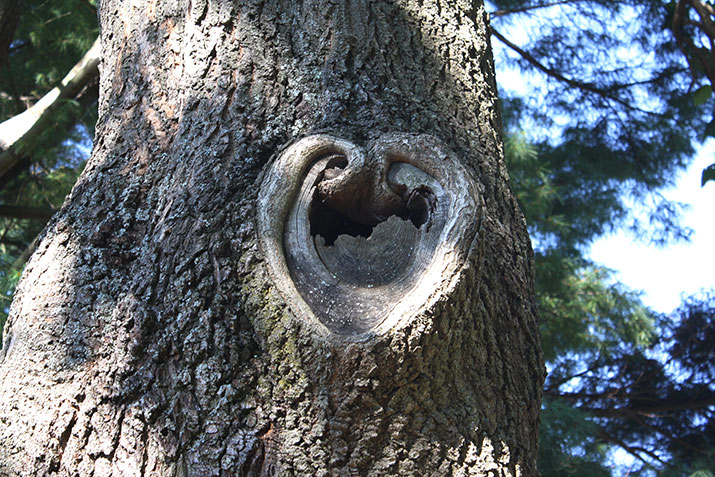 ©
Iryna Aksentyeva, CWF Photo Club Member

....to do in February.
Look for hearts in nature and send to CWF's Photo Club
Celebrate Family Day, Valentine's Day and National Heart Month by being in nature with those you love.
Look for tracks and other signs of animal life and listen for the changing calls of birds as some begin to sing the song of spring.
Canada Up Close
---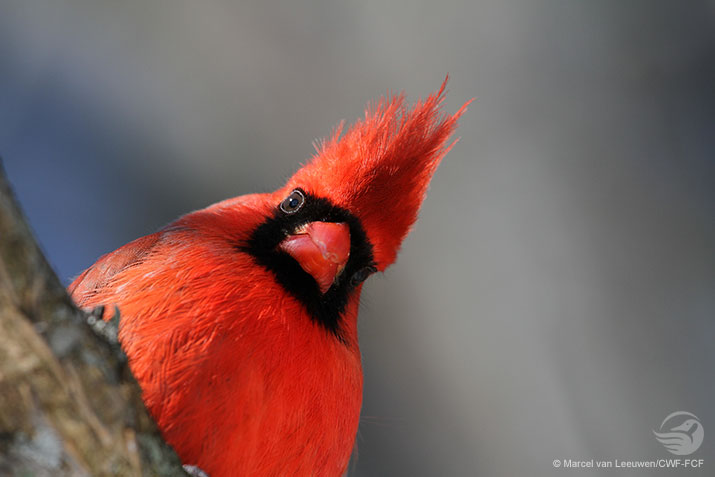 ©Marcel van Leeuwen, CWF Photo Club member
In keeping with the red in heart month and Valentine's Day, here's a fun wallpaper of a Northern Cardinal by Marcel van Leeuwen of the CWF Photo Club.
Funny Business
---
What did the carrot say to the wheat?

Gardening Calendar
---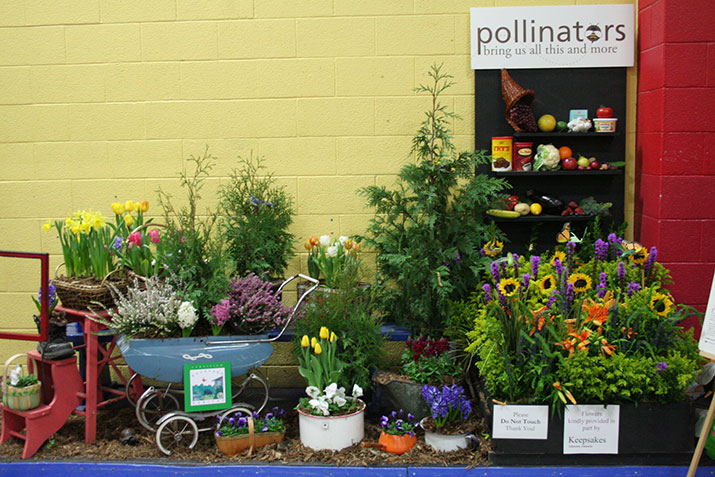 © CWF
Helpful Tip for February
Now is a great time to find gardening shows in your area. Many indoor shows take place in February and March but watch for outdoor events in public gardens all spring and summer long. They are a great way to get new ideas, from listening to guest speakers to seeing plant arrangements and design styles.
Are you organizing an event in your community? We have resources to help including a 30-page garden planner "Creating Habitat for Wildlife" available free when you pay for shipping and handling. And remember you can post your event on our Your Community Events page, too!
What's New @ CWF
---
| | | | | |
| --- | --- | --- | --- | --- |
| Did You Enter the Below Zero Contest? | | Did You Miss Valentine's Day? Oops! Make Up with a Big Bear Hug | | Check Out the latest issue of Canadian Wildlife Magazine! |
| We've given you the pep talk. Now you know there are countless benefits to spending more time outdoors! As an added incentive for you to get outside this winter, CWF is giving you the chance to win a $100 gift certificate to the CWF SHOP. | | Become a monthly donor (only $5 a month min!*) to CWF and you'll receive our exclusive Valentine's Day Bear Hug bundle. Keep it for yourself or give it to your Valentine as a symbolic gift to show you care about conserving Canadian species. It's a wonderful expression of your love for wild things on Valentine's Day. You'll also receive an e-card you can send to let someone special know they'll be getting a Bear Hug! | | The January / February issue of Canadian Wildlife magazine is on newsstands now! In this issue you'll learn all about the mighty hummingbird, find out who won CWF's Reflections of Nature photo contest and find out if cod are making a comeback in Atlantic Canada! |