Canada's gardening e-newsletter for creating beautiful wildlife-friendly spaces

© Photo:Penny Slack, CWF Photo Club member, sparrow on lupines, Vancouver, British Columbia
"Dirty hands, iced tea, garden fragrances thick in the air and a blanket of colour before me, who could ask for more?"
~ Bev Adams, Mountain Gardening
Whether you love to shape them, sit in them, stroll or play in them, summer is a wonderful time to savour all a garden has to offer. The sights, smells and sounds, and even the feel and taste of what grows there can delight the senses, calm the mind and invigorate the soul.
We'd love to hear your top tips for wildlife-friendly gardening or best gardening practices. As a token of our gratitude, we will send you a handy garden planner and enter your name for a draw for a hand crafted flower press, held later this year.
Family Fun
---
Make a boat or duck - or whatever else your imagination conjures up – and then float them on a nearby pond, puddle or stream!
Over the Garden Fence
---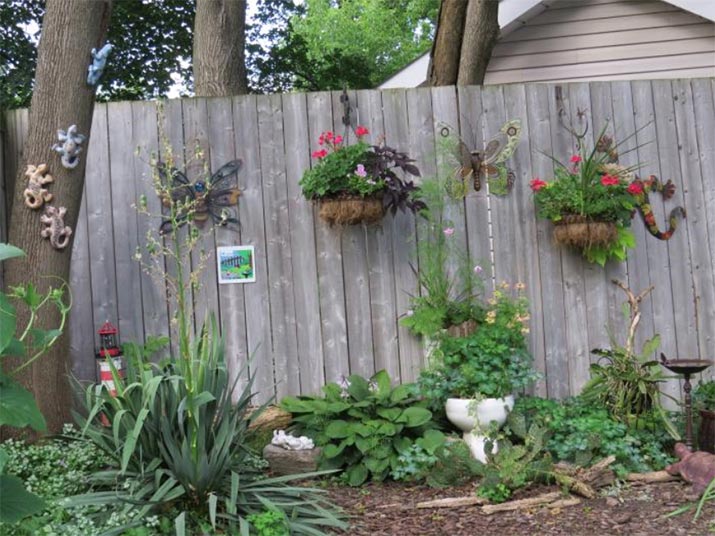 © Linda Watkins
Check out the many wildlife-friendly gardens across the country at our virtual community. Perhaps you might like to join in and share your photos and stories with other like-minded Canadians.
Plant Profile
---
Anemone multifida

Windflower, also known as cut-leaved anemone, is a native perennial that can be found from coast to coast. It grows in meadows, grasslands, open forests and rocky outcrops. Its appearance is variable, with flowers generally having a yellowish centre and either yellow or pink tones on the outer parts. It does well in sun or partial shade and dry or well-drained soils and will make it a bright addition to any garden.
Wild Wallpapers
---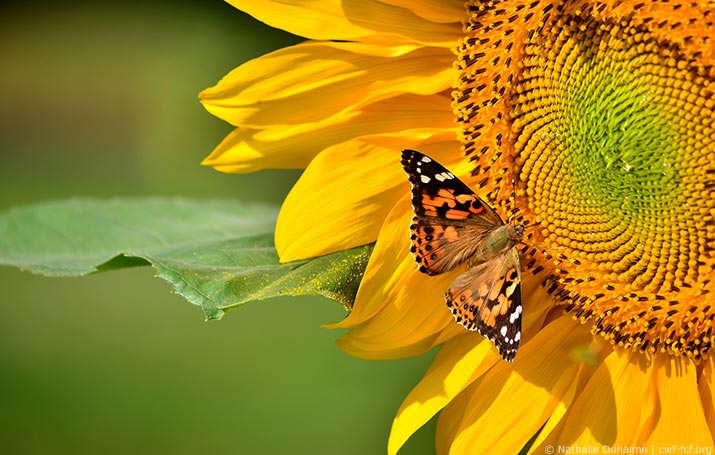 ©Nathalie Duhaime
Enjoy this season's free wallpaper by Nathalie Duhaime from our Photo Club, who beautifully captured this image of a painted lady butterfly feeding on a sunflower.
Gardening Calendar
---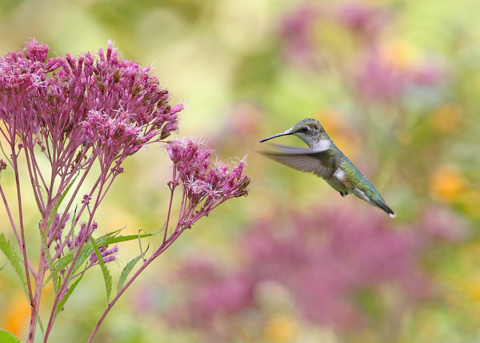 © Frank McHarg
Helpful Tips for Summer
Clean hummingbird feeders and change nectar often in hot weather. Learn about the beautiful native plants you can include in your garden to attract them.

Remove faded flowers to encourage second blooming for plants such as wild geranium, coreopsis, and bee balm. Do this early to ensure that a second bloom will set in so that birds will have many seed heads to feed from in the winter.

If you use sprinklers to water the garden, do so in the morning to help prevent water loss from evaporation.

Water plants at ground level to help prevent disease and scorching leaves in the sun.
For more tips on seasonal tasks, visit our online Garden Calendar.
Ask the Expert
---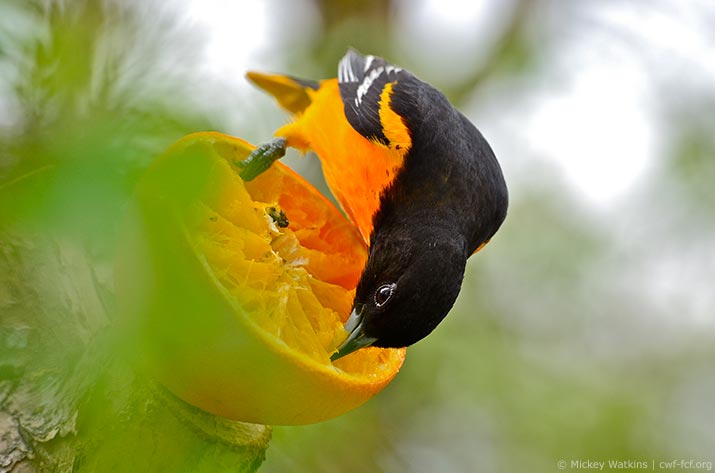 © Mickey Watkins
Is it okay to feed birds in the summer?

A. While there is no exact right or wrong, birds can feed from natural food sources in the summer months and don't need supplemental feeding. Planting a variety of trees, shrubs, perennials, vines, ferns go a long way in feeding our summer birds. Even leaving a small corner to grow a bit wild can provide valuable seeds for birds like finches and juncos. The diverse plantings create habitat for insects and spiders that are crucial for songbirds feeding their young, not to mention hummingbirds who need them for protein. Of course, it can be fun to put out a cut orange for butterflies and orioles that happen to live nearby and sugar water (without dyes) for hummingbirds. If you do put food out, try to also create natural habitat for that animal, with plants that evolved to support them. Also ensure you clean feeders often, especially as the temperatures get higher.


What's New @ CWF
---
Garden Certification

Garden Days


© Susan Biensch

CWF's Certification Program has a fresh new look and feel. So this spring, as you plan and play in your garden, consider certifying your property. You'll be joining the hundreds of other Canadians who have received official status for their wildlife-friendly efforts!




This June celebrate Garden Days! It is a national event to help Canadians enjoy all things garden related! Consider a stroll in a local public garden, check out registered Garden Days events or simply connect with loved ones in your own green space. For great gardening tips visit WildAboutGardening.org.