Canada's gardening e-newsletter for creating beautiful wildlife-friendly spaces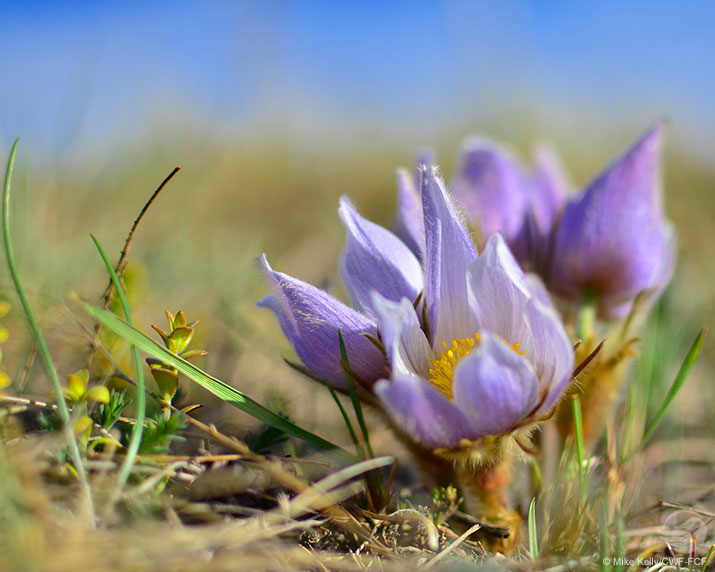 © Photo: Mike Kelly, CWF Photo Club member, prairie crocuses, Calgary, Alberta
"In the spring, at the end of the day, you should smell like dirt."
~ Margaret Atwood, Canadian author
Even if smelling of dirt isn't your thing, most of us enjoy shaping our outdoor space, and dirt, aka earth, is key. We have a new column, Family Fun, for enjoying your garden, park or nature trail with the children in your life. Read on to find out how to keep your compost pile odour-free, discover garden and wildlife events near you, learn about Canada's native bleeding heart and download our newest wallpaper to adorn your computer.
Whenever spring shows up in your corner of Canada, have fun exploring your neighbourhood and discovering all the colours, smells and songs that surround you!
Family Fun
---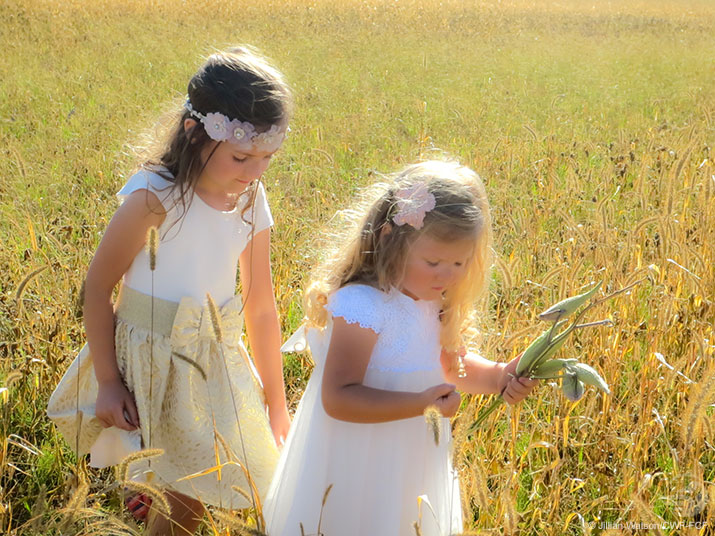 © Jillain Watson
, CWF Photo Club member

Enjoy your garden, park or nature trail with the children in your life by having a treasure hunt. It's a fun excuse to get outside and enjoy spring air, sights and sounds. It's also an effortless way to enhance your observational skills and discover more about the plants and animals near you!
Over the Garden Fence
---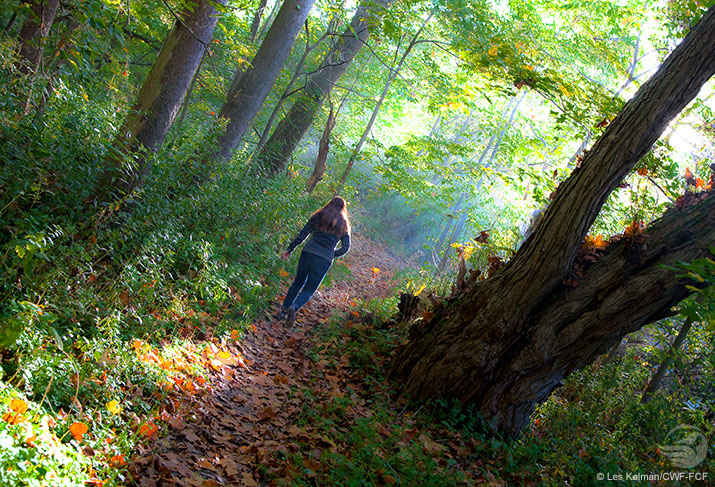 © Les Kalman
, CWF Photo Club member

Participating in local events is a fun way to get outside, meet like-minded people, discover new ideas for your home and explore family activities. Check out this spring's events to see what interests you!
Plant Profile
---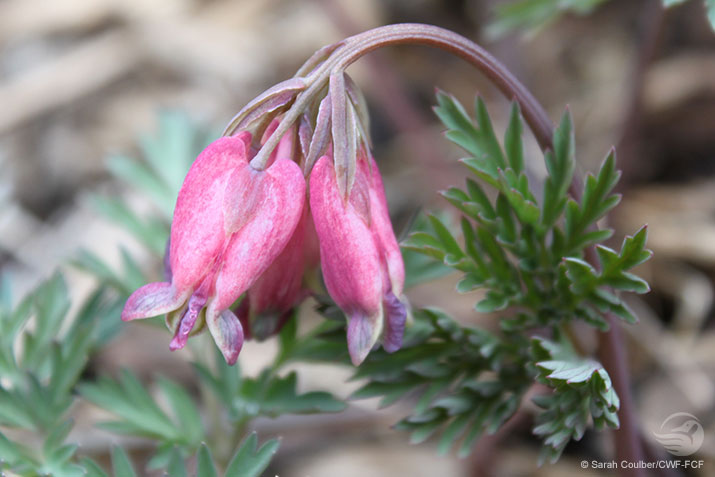 © Sarah Coulber
, CWF
Dicentras in Canada

Many Canadian gardeners are familiar with bleeding hearts, with their pink hanging flowers atop bushy feathery leaves. But what most Canadians don't know is that we have our own native version! D. formosa (wild bleeding heart) is found in moist woods of southern British Columbia. The plant we have growing at CWF's Wildlife-friendly Demonstration Garden blooms for several weeks in the spring, deep pink for a while turning to paler pink over time. It is a more delicate version than the more commercial D. spectabilis but is a beautiful addition to a woodland or shade garden. Another B.C. native is D. uniflora that grows in well-drained soil along foothills and subalpine slopes in British Columbia.
Eastern Canada enjoys the white flowering D. canadensis (squirrel corn) found in the rich woods of Ontario and Quebec. You may also find D. cucullaria (Dutchman's breeches) from Manitoba through to the Maritimes. It gets its name from the shape of its flower which resembles the style of pants worn long ago.
Wild Wallpapers
---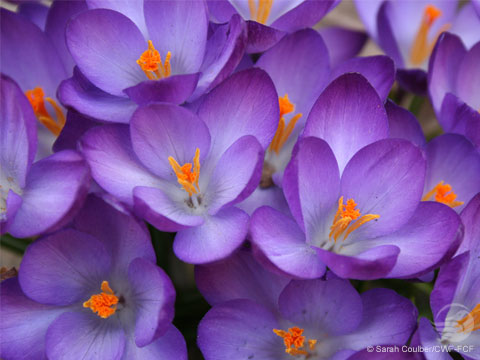 © Sarah Coulber
, CWF

Enjoy this season's free wallpaper, spring crocuses in full glory. Both native and non-native species provide early pollinators with pollen and are generally easy to manage in the garden.
Gardening Calendar
---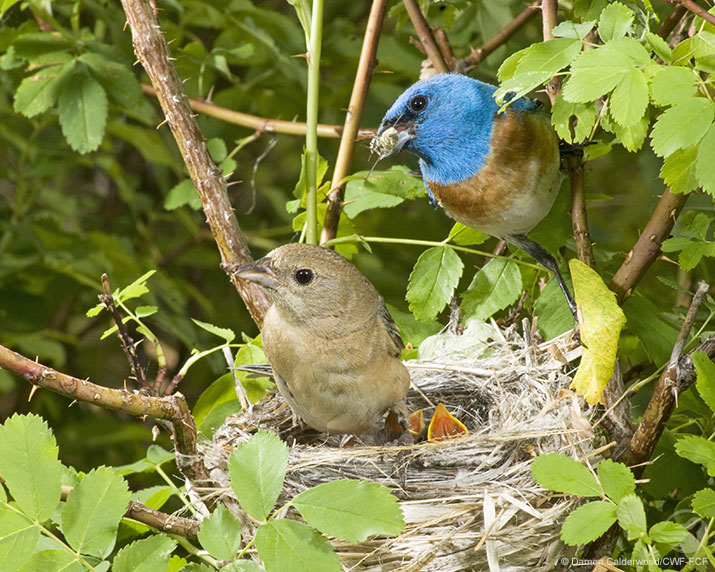 © Damon Calderwood, CWF Photo Club member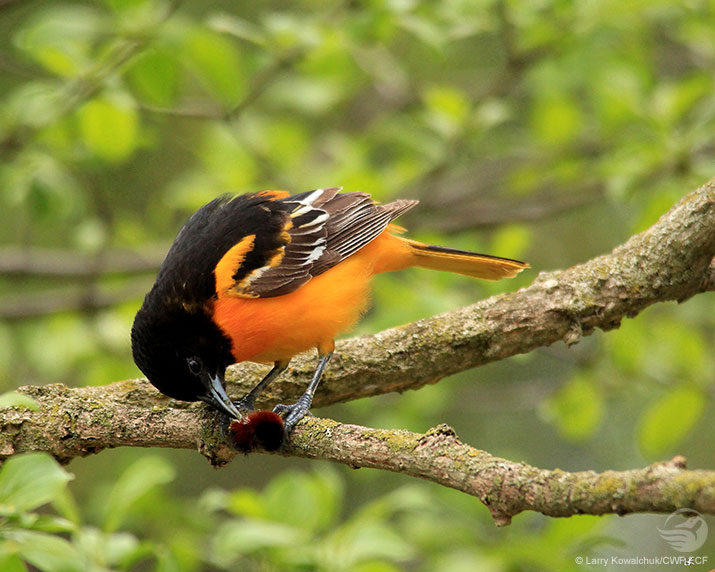 © Larry Kowalchuk, CWF Photo Club member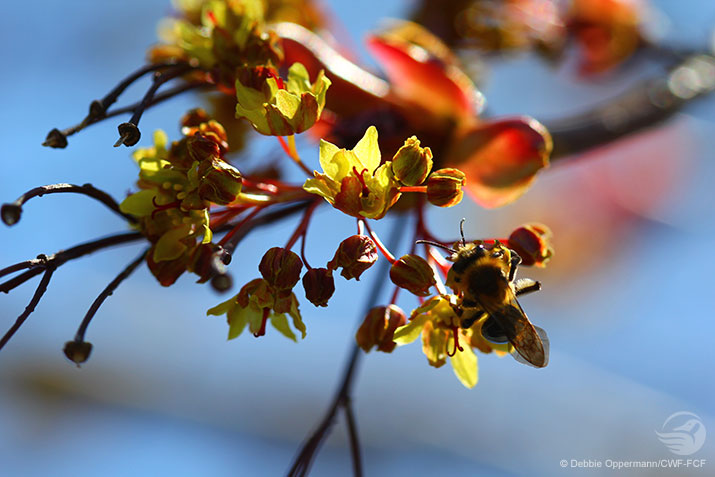 © Debbie Oppermann, CWF Photo Club member
Birds feeding on insects and native bee pollinating maple flowers.
Helpful Tips for Spring
Avoid harsh pesticides to support bees that pollinate our plants and birds who need insects, caterpillars and spiders to feed their young.

Leave scraps of wool or cotton yarn or cut hair in your yard for birds to use as nesting material.

Place winter mulch in the compost to allow the soil to warm up. Leave permanent mulches in place.

Acclimatize any seedlings started indoors before planting them outside. Gradually increase the time they spend outdoors and place in an area sheltered from heavy rain, strong winds or temperature dips until they get used to the weather.

Clean up the dead stalks from last year's perennials that were left through fall and winter to provide shelter and seeds for wildlife.
For more tips on seasonal tasks, visit our online Garden Calendar.
Ask the Expert
---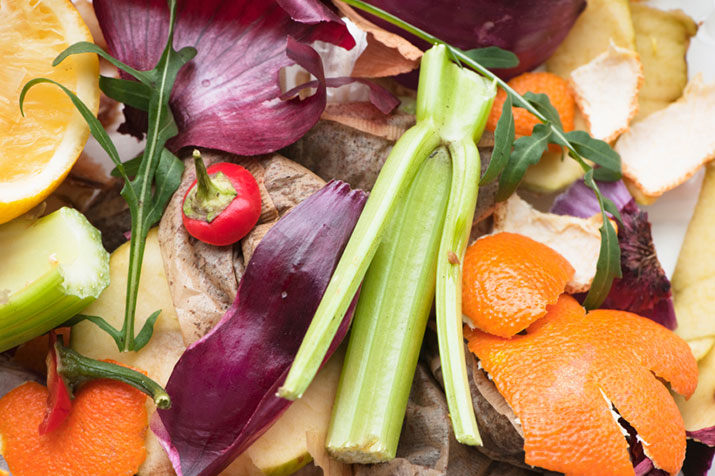 Photo: ThinkStock
My composter smells. What should I do?

A.Composting your kitchen and yard waste can be simple and odour-free. While you can make compost in anywhere from a few weeks to several months, depending on how much time you devote to it, it doesn't ever have to smell.


What's New @ CWF
---
March/April Canadian Wildlife Now on Newsstands!

CWF Presents National Wildlife Week April 5-11

$1 Becomes $3 in our Triple Matching Gift!

Our latest issue of Canadian Wildlife magazine explores how a textiles company from Quebec is creating new habitat for monarch butterflies by making material from milkweed, offers an update on the state of Fraser River sockeye, and more!




"Wild Migrations" will be the focus as CWF celebrates National Wildlife Week. Join us as we shine a spotlight on the amazing journeys of our Canadian migrating species with events held coast to coast. Or plan your own activity. Check our website for great ideas and for information on NWW events near you.





Canada's migrating species need your help. Risks from habitat loss, disease and entanglement all serve to put seasonal migrations in jeopardy. Make a donation today, and every dollar you donate will be TRIPLED by the Taillefer Family up to $100,000. It's a great way to triple your commitment to help at-risk species like the piping plover, right whale, monarch butterfly and the little brown bat.

Donate now!