December 21, 2012
Canada's gardening e-newsletter for creating beautiful wildlife-friendly spaces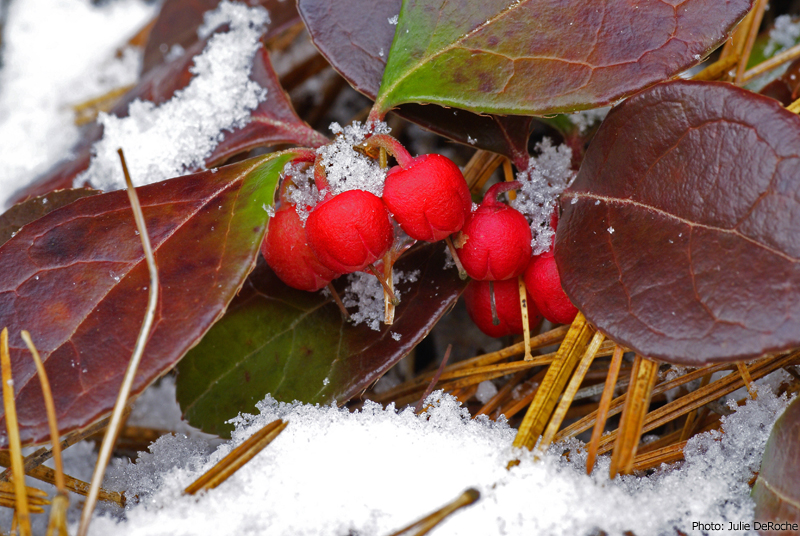 Photo: Julie DeRoche

This season, we're thrilled to reveal the winner of our 2012 homepage photo contest…and of course, share timely tips and treasures!
So whether you spend your leisure time curled up with a good book (or seed catalogue) dreaming new ideas for your garden, whether you venture outdoors to enjoy the snow and crisp cool air, or whether you watch your backyard wildlife from the comforts of your kitchen window, CWF's Backyard Habitat team wishes you a happy and wondrous winter.
The color of springtime is in the flowers; the color of winter is in the imagination.
~Terri Guillemets


Backyard Habitat 'How To'

---





Not all seeds are the same

Consider these ideas as you peruse seed catalogues and plan purchases for next year. Reprinted from the November/December 2012 issue of Canadian Wildlife magazine.

Read more »

Over the Garden Fence

---




Contest Winner!

Congratulations to our very happy winner, Lynda Watkins, who won our homepage photo contest. Her beautiful garden photo is now on WildAboutGardening.org' homepage, inviting gardeners like you to visit. Many thanks to all of you who entered, some of which are featured here in a slideshow.

Plant Profile

---




Photo: Sarah Coulber, CWF

Christmas Fern

This compact fern, Polystichum acrostichoides, is found from Ontario eastward (except Newfoundland) and was used in Christmases past as a decoration, thanks to its evergreen qualities that last much of the winter. It typically grows in hardwood stands, where it gets a good dose of mulch when the leaves fall each autumn. It can also be found in humus-rich rocky crevices or along stream banks where it is cool, moist and shady.

Fun Stuff

---


Photo: Greg Ferens, CWF Photo Club member


Wild Wallpapers

Juncos are such attractive birds despite their plain colours, as this beautiful image by Greg Ferens from our Photo Club, clearly shows. Download this free wallpaper to your desktop and explore our other fun stuff while you're at it!

Download

Gardening Calendar

---




Photo: Sarah Coulber, CWF


Helpful Tips for Winter

• When you take down the Christmas tree, place it in your backyard as a winter shelter for birds.
• Make spring clean-up easier by spreading a water-permeable "drop cloth," such as landscape fabric, under your bird feeder to catch sunflower hulls.
• Participate in the Christmas bird count.

For more tips on seasonal tasks, visit our online Garden Calendar.

Ask the Expert

---




Q. How can I compost in the winter?

A. Even if your region of Canada gets so cold that everything around you freezes, you can still help make yourself 'gardener's gold' all winter long – both inside and out!

What's New @ CWF

---
Happy Holidays!

Crafts & Activities sections


Turtle Race





This time of year always inspires a little reflection on all the things that have come to pass over the last year and a plenty of anticipation for what's to come in the next. Take a gander at what CWF is so proud to have accomplished over 2012 and what we're gearing up for in 2013. From all of us at CWF, thank you for your continued support.

One of our newest sections on WildAboutGardening.org is a place for parents, grandparents and other adults who wish to help the young ones in their life enjoy nature through crafts and activities. And let's not forget the young at heart who are happy for an excuse to play along!




CWF Is off to the Races!
Which leatherback will be the first to reach its southern nesting beaches? You'll have to follow the Great Canadian Turtle Race to find out!