Canada's gardening e-newsletter for creating beautiful wildlife-friendly spaces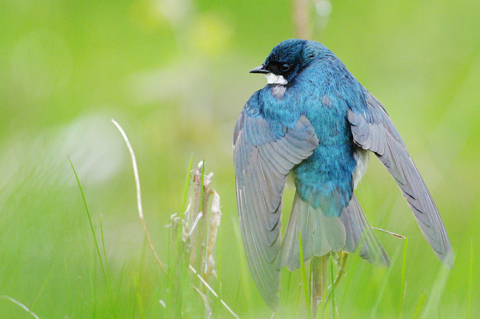 Photo: Jacuqes Pelletier
Spring brings new growth and new life. This season, enjoy the newness of WildAboutGardening.org. A new look, new content and so much more on the way throughout the growing season.
Backyard Habitat 'How To'

---

Gardener's Gold


This issue, find out why compost is good for you, your garden and wildlife, and how to make composting easy at home. Reprinted from the May/June 2011 issue of Canadian Wildlife magazine.

Consider the following…

Over the Garden Fence

---

Lawrencetown is for the birds!

CWF's Certification Program recently conducted a pilot project with the Village of Lawrencetown. This small community in the Annapolis Valley of Nova Scotia sought the status of community certification, initiated by resident Diana Ackroyd.

Plant Profile

---

Ribes aureum

Flowering (or golden) currant is a beautiful spring blooming shrub, native from southern British Columbia to southwestern Saskatchewan. It tolerates a variety of conditions and serves as a butterfly larval plant, as well as food for birds, mammals and adult pollinators. Its visual interest continues into the summer as it forms wine-coloured fruit and into autumn with colourful fall foliage.

Discover more about this and other plants.


Fun Stuff

---


Photo: Gabor Szerencsi

Wild Wallpapers

Our free wallpaper this spring is a red fox, photographed by Gabor Szerencsi from our Photo Club.

Download

Gardening Calendar

---

Photo: Frank McHarg

Helpful Tips for Spring

• Place winter mulch in the compost to allow the soil to warm up. Leave permanent mulches in place.
• Set up and fill a bird bath once temperatures are above freezing.
• Put out hummingbird feeders so early arrivals have a source of food while flowers are scarce.

For more tips on seasonal tasks, visit our online Garden Calendar.

Ask the Expert

---

Q. How do I choose suitable plants for my garden?

A. Visit our pages on design and planting as well as our Native Plant Encyclopedia for great ideas and resources in choosing the best plants for you and your garden.

What's New @ CWF

---

Conservation Blog: Check out CWF's new blog on gardening, wildlife and everything in between.
Garden Show (Manitoba): Visit Manitoba's Gardening Saturday March 31, 2012, as CWF's Backyard Habitat Coordinator presents the benefits and how-to's of wildlife-friendly gardening.