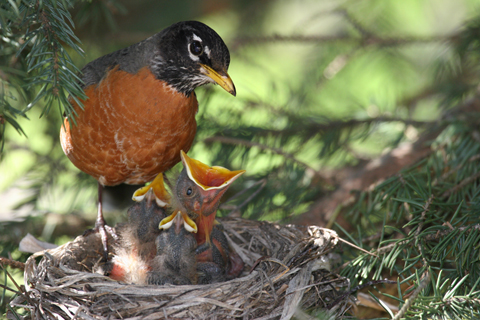 Spring is so easy to love. Returning birds fill the air with song, treetops burst into the green of new leaves and spring flowers bloom to feed our pollinators and delight our eyes.
In this issue, we are rerunning a guest article from 2001 by Gaston Tessier on incorporating water in your garden. We also visit Canadians committed to the wise stewardship of our land. The first stop is with the Barlows in British Columbia to find out how this couple is transforming their city lot. Then, we take a look at an Ontario native plant nursery that grows and sells native plants for the love of it. Our feature plant this spring is bearberry. This widespread Canadian plant can serve both as a hardy plant in rock gardens and as a ground cover. And read about the groundhog and discover ways you can live in harmony with this beneficial mammal.
Our free wallpaper this spring is of the mayapple, a spring bloomer native to moist, shady areas in Ontario, Quebec and Nova Scotia. We also have a new colouring page, which is available to download for free. Happy Spring!
---

Guest Column

Water in the Garden
By Gaston Tessier

Water gardening is an area of horticulture that has become increasingly popular. It can be as simple or as complex as you wish to make it — from a half barrel on a patio to a large natural pond. Read more »

---

Feature Plant

Bearberry
By Sarah Coulber

I think it's safe to say that Canadian gardeners appreciate plants that offer visual interest in more than one season. Pretty flowers in spring or summer followed by bright fruit in summer or fall are a satisfying combination. Read more »

---

Feature Garden

Helping Our Planet One Garden at a Time
By James Barlow

Sylvia and I have always been interested in wildlife, nature and gardens. Sylvia was brought up in the great white north of B.C. and spent most of her young days exploring the outdoors with her brothers and sisters, enjoying the nature and wildlife. Read more »

---

Feature Creature

Groundhogs
By Terri-lee Reid

Regardless of whether Wiarton Willie, Punxsutawney Phil, Brandon Bob, Balzac Billy, Shubenacadie Sam or Gary the Groundhog saw his shadow on Groundhog Day, the first groundhog I see after a long winter is a sure sign of spring. Read more »

---

Feature Nursery

Native Plant Nurseries in Uxbridge was formed in 2003 to respond to the need for locally collected native plant material. Read more »

---

Feature Wallpaper

A spring bloomer, the mayapple is native to moist, shady areas in Ontario, Quebec and Nova Scotia.
Download mayapple »
Credits: Robin - Jadzia Von Heymann; Pond - Sarah Coulber, CWF; Bearberry - Sten Porse; Flower - James and Sylvia Barlow; Groundhog - Marie Stadnek; Yellow flower - Leah Sevigny; Mayapple - Sarah Coulber.