December 21, 2010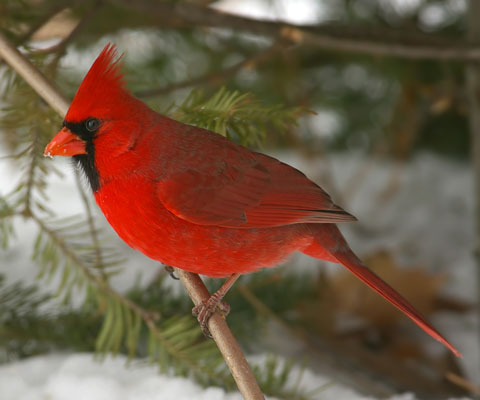 Photograph by: Tom Lusk

Winter is here – technically speaking. Some of us have been experiencing the cold and snow for a few weeks, whereas others are yet to have a proper taste of it. Either way, we're all experiencing less daylight and reduced activity in our gardens – it's the perfect time to slow down and read a bit more.

For those with gardening in our blood, here's another issue of CWF's Seasonal Gardening Guide, complete with praise for our native plants by an Ontario horticulturalist, an inspirational gardening story from Manitoba, our feature nursery from Quebec, insight into the world of black-capped chickadees that grace most of Canada and an article on Canada's two arborvitae – a.k.a. eastern and western cedars. We also have a beautiful image of a northern cardinal by Tom Lusk, which is available as a free desktop download.
| | |
| --- | --- |
| | For those who are missing the colours of the growing seasons, download CWF's new free screensaver at and enjoy bright blooms from their wildlife-friendly garden, featuring some of Canada's native trees, shrubs and perennials. |

Subscribe for Free!
Get Wild About Gardening's Seasonal Gardening Guide, CWF's free e-newsletter about wildlife-friendly gardening. Delivered to your inbox four times a year, Wild About Gardening's Seasonal Gardening Guide is your best source for news on the Wild About Gardening website, feature creatures and green-thumb gardening tips.
Guest Column

Why Grow Native Plants?
By Peter Scholtens Verbinnen's Nursery
Many of the popular plants in today's gardens are imported from other parts of the world. In fact, there are companies that specialize in going overseas to find new plants to introduce to the North American landscape..
---
Feature Garden

Gardening from the Heart
By Sarah Coulber
Janice Weidman bought her Winnipeg, Manitoba, property back in 1979 and has lovingly tended this small urban lot ever since. And while she only has 650 square metres to play with, Janice has nevertheless packed it with a host of plants that benefit both her and the remarkable variety of wild animals that visit – in a manner that benefits us all.
---
Feature Nursery
Majella Larochelle - Horticulteur et Botaniste
In 1982, Majella Larochelle was known in the U.S. as a seed source with a selection of more than 4,200 items. With time, and after visits to many rock and alpine gardens, he decided to specialize in alpine plants.
---
Feature Creature

Black-capped Chickadee
By Sarah Jones
The black-capped chickadee is one of six species of chickadee in Canada and occupies a wide range, spanning across the provinces of Newfoundland to British Columbia and north into the Yukon and Northwest Territories.
---
Feature Plant

Canada's Cedars
By Sarah Coulber
The eastern white cedar can grow to 15 to 20 metres tall, its western relation, the western red cedar, can reach a whopping 60 metres. Both can live several hundred years.
---
Feature Wallpaper
Our native trees and shrubs provide important year-round habitat for many animals, including this male northern cardinal, found in eastern Canada..
---
Photo Credits:
1. Photos within Guest Column: John Verbinnen
2. Photos within Feature Creature: Jeff Sorbie
3. Photos within Feature Garden: Carla Barkman
4. Photos within Feature Nursery: Majella Larochelle
5. Photos within Feature Plant: Sarah Coulber
6. Feature Wallpaper Photo: Tom Lusk