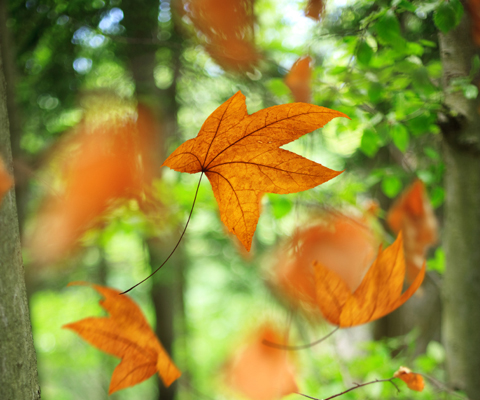 With the arrival of autumn comes a fresh batch of articles for CWF's Seasonal Gardening Guide, covering a variety of topics for Canadians coast to coast. Read on to see which topics are perfect for you and your garden this season.

Subscribe for Free!
Get Wild About Gardening's Seasonal Gardening Guide, CWF's free e-newsletter about wildlife-friendly gardening. Delivered to your inbox four times a year, Wild About Gardening's Seasonal Gardening Guide is your best source for news on the Wild About Gardening website, feature creatures and green-thumb gardening tips.
Editor's Bench

Welcome
By Sarah Coulber
As summer makes way for autumn, we can look forward to the beauty of fall colours. Many of us like to stroll our grounds or sit on the patio and dream of how we might make our garden even more appealing. As you look around your property this season, keep in mind ways you can make it more sustainable as well.
---
Guest Column

Designing Sustainable Landscapes
By Jessica K. Majore & Nicholas L. Bott
In an age of urban sprawl, failing infrastructure, polluted water and greenhouse gasses, we are hearing the word "sustainability" more and more frequently. In fact, it seems that everywhere we look there is a new green or sustainable product on the market. Companies are responding to consumers' needs and wants because we are starting to see the effect that products and human activity are having on our planet.
---
Feature Garden

Why I Certified My Backyard
By Jennifer Howard
Back in 2004, l read an article from Canadian Wildlife Federation about certifying your backyard and making it wildlife friendly. This sounded perfect for me, as l grew up with wildlife surrounding me, and I love the idea of gardening with it in mind.
---
Feature Nursery
Macphail Woods Native Tree and Shrub Nursery
Located in Orwell, Prince Edward Island, the Macphail Woods Ecological Forestry Project combines protection of natural areas with wildlife enhancement, forest stewardship, watershed protection, environmental education and ecological research. The project began in September of 1991 with a wildlife garden and native plant nursery.
---
Feature Creature

Ladybug 101
By Sarah Jones
The ladybug is one of Canada's most beloved insects. Many people believe that there is only one species of ladybug native to North America and that you can tell how old ladybugs are by counting the spots on their backs.
---
Feature Plant

Northern Bush Honeysuckle
By Sarah Coulber
CWF's wildlife-friendly demonstration garden showcases several of Canada's native plants. While some are showstoppers with gorgeous blooms, we have many that quietly grace the gardens with their attractive foliage or fall colours. One such plant, the northern bush honeysuckle, grows in our drought bed.
---
Feature Wallpaper
The New England Aster and native bee is our latest free wallpaper ready for you to download.
---
Photo Credits:
1. Photos within Guest Column: The Pond Clinic & Lotus Landscape Design
2. Photos within Feature Garden: Naturalist photographer natureworksphotography.blogspot.com
3. Photos within Feature Nursery: Macphail Woods Ecological Forestry Project
4. Photos within Feature Plant: Sarah Coulber
5. Feature Wallpaper Photo: Sarah Coulber