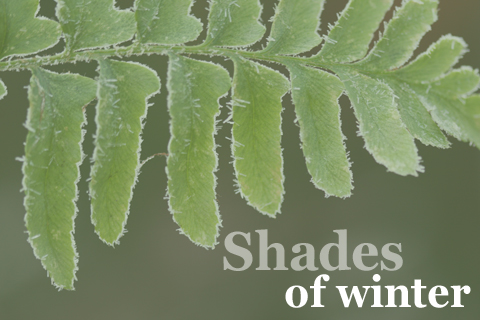 Seasons come and seasons go
As for winter, this I know
The fresh white snow gives reason to
Explore outside with wonder anew
Time to curl up in our chair
Under a favourite blanket and stare
At seed catalogues, at garden magazines
Time to look and time to dream

~Anonymous
Winter is here, and while we many of us may venture outside and explore the snowy landscape, gardeners also tend to take the time in a cozy armchair and plan next year's garden. If you fancy watching the remaining winter birds feed in your garden or participating in a Christmas bird count in your area, you'll want to read Cliff Bennett's article on the basics of bird watching.
Those of you who have a shady little corner in your gardens should check out this season's plant article, the Christmas fern. This delightful plant also graces the gardens here at the Canadian Wildlife Federation.
Get ideas for your garden by reading about Lorena Baker's journey of transforming her Saskatchewan garden into an oasis that both nurtures her spirit and supports her wild neighbours.
And while we don't have a typical garden creature featured this season, we do have a Canadian animal that feels the impact of our daily activities – including our gardening habits. Discover the wonders of the blue whale and how we, through mindful gardening, can help it survive and thrive.
Our nursery this season is Acorus Restoration in southern Ontario. The owners, like many native plant enthusiasts, take great pride in growing and selling plants native to their area, knowing they are doing their part to help maintain the diversity and well being of the ecosystems in their region.
And for those of you who enjoy wallpapers, we offer two this season – an Aster and a Rudbeckia – both taken on a frosty morning as the sun was rising. When left to go to seed, they naturally provide food for birds during the fall and winter months.
Enjoy,