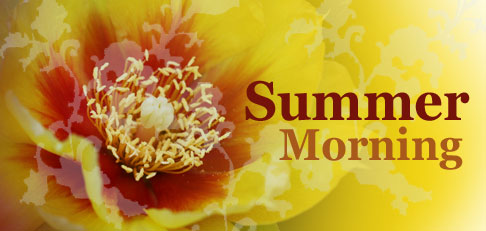 In the morning, very early, That's the time I love to go
Barefoot where the fern grows curly, And the grass is cool between each toe,
On a summer morning – O!
On a summer morning!

That is when the birds go by, Up the sunny slopes of air,
And each rose has a butterfly, Or a golden bee to wear;
And I am glad in every toe –
Such a summer morning – O!
Such a summer morning!

~ Rachel Field
As summer sets in, we're gearing up to enjoy some fun in the sun. Whether it is camping among tall trees, canoeing on a lake, building sand castles or simply hanging out in our own backyard, most summer activities involve nature. With warm air, plants blooming and butterflies fluttering about, it is hard not to enjoy!
We've got quite the issue of the Seasonal Gardening Guide in store for you this season! If you would like to learn about the brilliantly coloured Baltimore oriole, check out our feature creature article this month. It has all the facts on this winged creature and how to entice it to your green space.
Our garden this season profiles a mother and son team effort in Nova Scotia. Together they created a haven for their local wildlife and a basis for school science projects.
For those of you who like to grow unusual plants in your garden, you'll want to read about our native plant this season — cacti. These prickly plants have gorgeous blooms and are more widespread than many know.
Looking to fill your garden with native plants? Then check out our feature nursery in Manitoba for this season. They will be glad to help you with your plant choices for making your corner of our country wildlife-friendly.
This issue, our guest column is an eye opening exploration of the world of tracks. Learn how you can track, no matter the season, in your backyard, local park or nearby wilderness area.
Feel free to download our colourful summer wallpaper — native plant to Canada that blooms in the summertime.
Enjoy,
Sarah Coulber
For