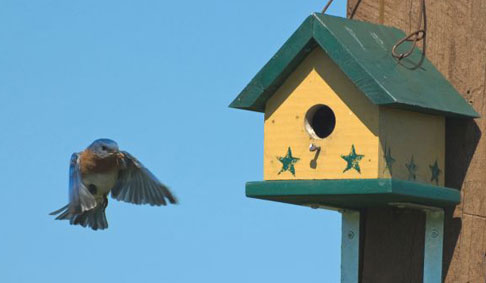 Is There A Bluebird On Your Windowsill?
This past winter, several members of the Mississippi Valley Field Naturalists (MVFN), situated in the northern half of Lanark County in Eastern Ontario, spent a cold wintry Saturday building bluebird boxes. They hope to establish a bluebird trail in the area this spring. The plight of the Eastern Bluebird has long been of interest to naturalists across North America, ever since the 1950s when man almost wiped them out with DDT. Another single deterrent to the successful nesting of these beautiful songsters was the introduction of the European Starling to our continent, a species that spread prolifically a century ago and assumed the bluebird's natural nesting cavities. Building bluebird boxes and establishing nesting trails has been a constant quest ever since.
March 21, 2009
Wild About Spring
Spring makes its own statement, so loud and clear that the gardener seems to be only one of the instruments, not the composer.
~Geoffrey B. Charlesworth
Spring has definitely arrived in many areas of Canada. Many of us enjoyed some early sunny warmth, clearing away much of the winter's snow. Part of the joy of spring is the welcome song of birds as they gear up for the breeding season. Whether it's the red-winged blackbird calling by the water's edge, the cheerful song of returning robins or the trill of a cardinal from the treetops, these melodies inspire optimism and hope for the warmth to come.
If you would like to help our feathered friends be sure to read our guest column which gives great advice on creating, installing and maintaining houses for bluebirds. These beautiful birds are a welcome addition to any neighbourhood and could definitely use our help.
Our feature garden comes from southern Ontario and is a great example of how to welcome wildlife to any property. Be sure to read it through as it is filled with inspiring ideas.
Wild About Flowers is our nursery in the spotlight this season. Established in 2003 to provide a wealth of native plants to gardeners in Alberta, this dedicated nursery serves as an inspiration to anyone and provides our seasonal gardening tip.
If you have noticed an unusual, hummingbird-like creature hovering in front of your lilac bushes or other flowers, check out our spring feature creature. This season we profile the hummingbird clearwing moth.
Be sure to take a look throughout the website as we continue to update all of our material.
Enjoy the gardening season,