September 12, 2013
By Claire Preston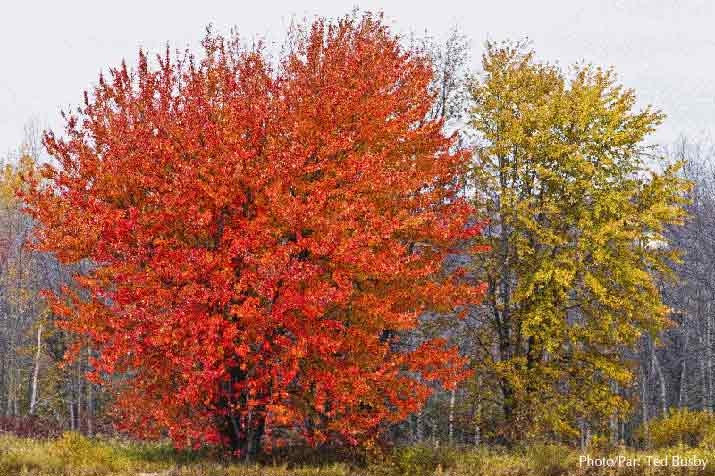 From the majestic Douglas firs that tower over us in the temperate rain forests of the west coast to the mighty hemlocks that grace our mixed-wood forests to the red pines that stand proud in the east, one thing is certain—trees form the beautiful backbone of our natural heritage.

The Canadian Wildlife Federation (CWF) is proud to celebrate our third annual National Tree Day on September 25. National Tree Day provides us all with an opportunity to celebrate these beautiful ancient giants, which provide so many benefits that some take for granted. Not only do trees provide two of life's essentials—food and oxygen—but they also provide clean air, shelter and habitat for our native wildlife. Trees also contribute to the environment by improving air quality and preserving soil. According to the U.S. Department of Agriculture, 0.4 hectares (one acre) of forest absorbs six tons of carbon dioxide and emits four tons of clean oxygen. How's that for a breath of fresh air? Through their respiration process trees also filter the air by removing dust and other pollutants such as carbon monoxide, sulphur dioxide and nitrogen dioxide. A tree's far-reaching roots can hold soil in place and help combat erosion; they also absorb and store rainwater, which can reduce runoff and sediment deposits after a hefty storm. Fallen leaves from our deciduous friends also enrich the nutrient content of its surrounding soil.

And if all those environmental benefits aren't enough, consider the value of trees within our communities: they bring natural elements and wildlife habitat into our ever-expanding urban settings and create a peaceful environment within many a concrete jungle. Trees frame landscapes, create beautiful backgrounds and are consistently used to enhance building designs. They improve communities by helping to screen unsightly views, acting as sound barriers (well-placed trees can reduce up to 50 per cent of bothersome noise and can mask some noises with pleasant natural sounds) and providing privacy.

Finally, think about this: how many of your childhood memories include the trees in your backyard or neighbourhood? And as our communities grow, how many of those trees have been lost? There is a certain spiritual connection that can be forged with the trees and forests that surround us, and it can be hard when we lose these 'living monuments' that symbolize our bond with nature. We only need to step under the dense canopy of a forest to feel a sense of peace and relaxation inspired by the regal stature of the trees that surround us. Many people choose to plant new trees in urban settings as memorials of life-changing events, bringing a piece of the wild into their own backyard.

This year for Tree Day, CWF is hoping to get your help to plant some trees! In advance of Tree Day, we will be launching a social media campaign with the goal of planting 1,500 trees in areas in Canada requiring rehabilitation. Through the help of our supporting partners, and participants like you, we can only get there by increasing CWF's social media presence.

For every Facebook Like the Canadian Wildlife Federation receives between Monday, September 23 to Wednesday, September 25 (Tree Day), CWF will plant one tree towards our end goal of 1,500! The more times you, your friends and your family like us on Facebook, the more trees CWF will be able to plant!

Interested in planting your own tree to celebrate National Tree Day? Visit our Wild About Gardening site to find some useful tips for tree planting!