By Natalie Gillis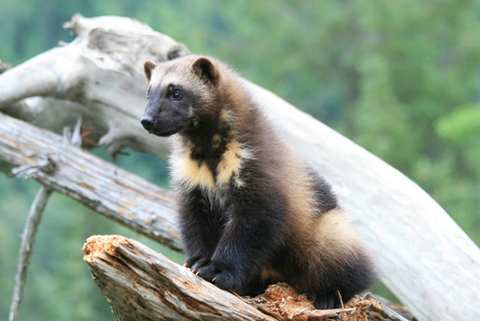 When was the last time you went for a walk in the woods? Getting outside and reconnecting with nature is a perfect way to unwind and get away from the hustle and bustle of daily life, so spring into action! To celebrate National Wildlife Week, the Canadian Wildlife Federation is encouraging everyone to get out and Walk for Wildlife from April 10 to May 22. Since 2011 is the International Year of Forests, why not celebrate by taking a walk in your local woodland? And keep your eyes peeled! Canada's forests are home to approximately two-thirds of the country's wildlife, including 340 forest-associated species at risk.
After your walk, visit NationalWildlifeWeek.com to log your kilometres. You'll be able to track our progress as we make our virtual walk through all of Canada's forest ecozones. Across the country, each ecozone is represented by a different animal ambassador. Curious? Check out how these animals get around in their habitats and get inspired!
Pacific Maritime's Northern Spotted Owl
The northern spotted owl is a fairly large, chocolate brown owl with white spots on its head and body. In Canada, it is found only on the British Columbia mainland and is one of our rarest birds. It hunts at night, using its excellent hearing and night vision to find its prey of flying squirrels and other small rodents.

The northern spotted owl is adept at walking and running, which allows it to get around in its habitat of old-growth forests. If the owl misses its prey on the ground, it can run after it, keeping its wings spread wide for balance. When walking, the owl has an ambling gait, rolling a little from side to side.
Montane Cordillera's Northern Leopard Frog
The northern leopard frog is widely distributed across North America. It is a green or brown frog, with distinctive leopard-like spots on its back that make it easy to identify.

The northern leopard frog spends the winters hibernating at the bottom of streams, ponds and lakes. When it emerges in the spring, it can travel several kilometres to its breeding pond. After mating and laying eggs, the frog leaves the water and is on the move again, heading to grassy areas for the summer. Once settled in its new territory, it spends most of its time sitting in leaf litter waiting quietly for insects and other prey to come close. With its strong legs, it can leap up to 40 centimetres to seize its prey.
The Boreal's Wolverine
Wolverines are shy animals that live far from humans and their developments. Short and thick like a small bear and as large as a medium-sized dog, the wolverine is actually a member of the weasel family.
The wolverine is a scavenger and depends on other carnivores, like wolves, to kill the animals it eats. Scavenging is hard work. The wolverine travels up to 40 kilometres a day to find food throughout its vast territory of up to 1,000 km2. When a young wolverine leaves its mother after one or two years, it may travel as far as 300 km away from its home range to establish its own territory.
Mixedwood Plaines' Five-Lined Skink
Found only in southern Ontario, the five-lined skink is Ontario's only native lizard. Juveniles have a bright blue tail and dark body with five cream stripes down its back, but as the skink ages it fades to a uniform bronze.

The five-lined skink doesn't stray too far from home, but it is an active predator and darts about quickly looking for insects, spiders and worms. Because it doesn't regulate its body temperature internally, it basks on rocks to absorb heat and shelters under rocks, logs and leaf litter when it's too hot. If a predator catches a skink by its tail, the skink's tail breaks off and wiggles around, distracting the predator while the skink escapes.
Atlantic Maritime's Monarch Butterfly
With its bright orange-and-black wings measuring nine to 10 cm across, the monarch butterfly is one of the most recognizable of all butterflies. It is widespread throughout Canada and found anywhere milkweed grows: in forest clearings, pastures, meadows, roadsides and other open spaces.

The eastern population of monarch — that is, all North American monarchs east of the Rocky Mountains — travels up to 3,000 km in a single migration from Canada to its overwintering sites in Mexico, a perilous journey that takes up to two and a half months. Probably no other insect on Earth makes a similar migration. With good wind conditions monarchs have been clocked at up to 130 km per day and have been observed flying more than one kilometre above the ground.