The Art of Nature
On October 2, 2008, eight of Canada and the United States' top wildlife artists and photographers began a two week voyage to witness and document the George River caribou herd migration at Lake Kamestastin in Labrador. The expedition was organized as part of the Wilderness River Expedition Art Foundation's (WREAF) project: Visions of the Boreal Forest: Art, Science and Adventure in the Northern Wilderness and marked the group's seventh expedition to the boreal forest since 2005. The trip to Lake Kamestastin, their most recent journey, was made possible, in part, through a $12,000 sponsorship by the Canadian Wildlife Federation.
Conserving the Eastern Yellow-Bellied Racer
In spring 2008, the Canadian Wildlife Federation provided $7,500 in funding to Regina researchers to develop a conservation strategy for the threatened eastern yellow-bellied racer.
Sharing Inspiration
n today's world, getting inspired is not always easy. All the more reason to share this refreshing and inspiring experience that occurred a few weeks ago at the Scott Young Public School in Omemee, Ontario. A morning tour of the grounds with lead teacher Kevin Adams (pictured above) left everyone feeling inspired and full of hope that people can make a difference.
Scott Young Public School is a Canadian Wildlife Federation WILD school and has earned this designation for their participation in CWF education initiatives. As with all WILD schools, CWF has financially supported some of the school's efforts to teach students about biodiversity through small projects located on and around their school grounds.
Home for the Butterflies
When we think of pollinators, our thoughts naturally drift towards the most famous members of this important group — bees. But butterflies also play an integral role in the process of pollination and they look good doing it too! From monarchs to painted ladies to swallowtails, Canada is home to almost 300 of these delicate and colourful species and visitors to the butterfly house managed by La Maison des Insectes have the opportunity to experience them up close and personal.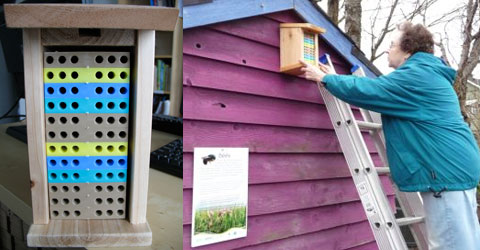 A Pollinator's Paradise
Pollinators will soon be buzzing in Vancouver parks again thanks to the efforts of a youth organization dedicated to increasing the number of mason bees in their neighbourhood.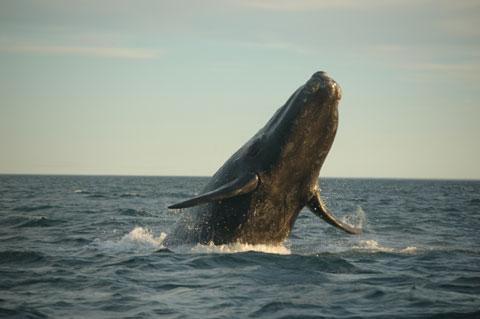 Right Whale Hanky-Panky
Why Is the North Atlantic Right Whale Having Such a Hard Time in the Baby-Making Department?
By Annie Langlois
Funded Projects
See how the Canadian Wildlife Federation is supporting wildlife through funding.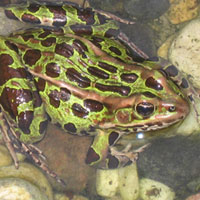 A Backyard Frog Guide for New Brunswick
Blossoming frog enthusiasts in New Brunswick will soon have a new tool to help them identify the province's nine frog and toad species. Aided by a $2,700 grant from the Canadian Wildlife Federation, Nature NB is producing a poster and field guide to introduce beginners of all ages to their amphibious neighbours.