Douze Canoes
Group 12
The Canadian Conservation Corps is an ongoing series of three-part programs designed for Canadian youth that focus on service, adventure and reflection. Over the course of this nine-month experience, individual groups of Corps members will have the opportunity to learn about conservation while being deeply engaged in our natural and cultural heritage.
Learn more about the Canadian Conservation Corps
Stage 1
Departing from Kozy Hollow Lodge (near Canterbury, NB), the 12th group of CCC participants head out on an expedition along part of an ancient portage trail that links the Chiputneticook Lakes to the Passamaquoddy Bay, canoeing a meandering route through the many small lakes and streams that dot the route. This area is known as a biodiversity hot spot where beaver lodges, moose, black bear and exceptional fishing are found, along with Class 1 and 2 rapids that increase the sense of adventure. Participants will experience pristine wilderness along the entire 130km route, winding up at Oak Bay Provincial Park on the Passamaquoddy Bay. It's a trip of a lifetime and a great start to their Canadian Conservation Corps adventure.
Have you experienced a wilderness adventure in Canada? Share your experiences: #CCCAdventure
Knowledge-Sharing in their Communities
Stage 3
This is where participants put their ideas in motion in the hope of making Canada a better place. In their home communities, they deliver a service project designed to inspire other youth ages 15 to 30 to get involved. It's time to "pay it forward."
Funded by the Government of Canada under the Canada Service Corps program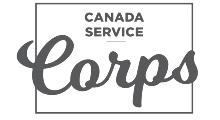 In collaboration with