The Mount10eers
Group 10
The Canadian Conservation Corps is an ongoing series of three-part programs designed for Canadian youth that focus on service, adventure and reflection. Over the course of this nine-month experience, individual groups of Corps members will have the opportunity to learn about conservation while being deeply engaged in our natural and cultural heritage.
Learn more about the Canadian Conservation Corps
Stage 1
For their Stage One adventure, "The Mount10eers" will experience a 14-day hiking/backpacking trip through the Alberta Rocky Mountains. Heading deep into the Rockies, being surrounded by rugged peaks, glacier-carved valleys, mountain lakes and alpine meadows will provide great opportunity for reflection. The experience will teach safe and effective mountain travel, backpacking techniques, minimal-impact camping, navigation and compass work, route-finding skills and how to move across scree and snow-slopes. The journey will also provide a solo experience that can be entirely transformative.
Have you experienced a wilderness adventure in Canada? Share your experiences: #CCCAdventure
Knowledge-Sharing in their Communities
Stage 3
This is where participants put their ideas in motion in the hope of making Canada a better place. In their home communities, they deliver a service project designed to inspire other youth ages 15 to 30 to get involved. It's time to "pay it forward."
Funded by the Government of Canada under the Canada Service Corps program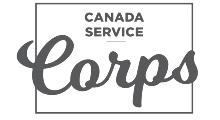 In collaboration with