Nesting season is underway!

Remember to call or text the START turtle hotline, (705) 955-4284, for turtles in the Lake Simcoe-Muskoka region — especially for rare species (all sightings), nesting females (any species), or injured/dead (any species) individuals.
We map road crossings and mortality, captive hatch eggs, and collect lots of data for turtle conservation. Saving one turtle can be a big help to local turtle populations, especially if it's female. A healthy female left to live a long life will lay eggs and help restore turtle populations.

The Canadian Wildlife Federation and Scales Nature Park have joined efforts to deliver The Saving Turtles At Risk Today (START) Turtle Project. This initiative works to conserve turtles in the Central Ontario region (Muskoka, Simcoe, Haliburton etc) area through on the ground conservation, education, public engagement and outreach. By inspiring local residents to protect turtles, CWF and Scales will create a national example of how these precious species can be protected throughout Ontario and other regions of Canada.
Thanks to generous funding from the Rogers Foundation, CWF is working with regional partners, community groups, lake associations and individuals to reduce risks to turtles.
The START Turtle Project will target all six turtle species in the region (Painted, Snapping, Blanding's, Map, Musk and Spotted), with a particular focus on Blanding's turtles since this species is the most likely to be impacted by road mortality and human activities in the area.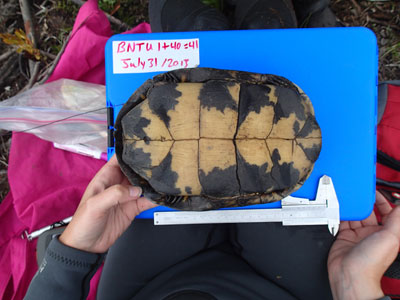 Summer 2018 Results
Working in collaboration with the Canadian Wildlife Federation, our partners at Scales Nature Park were typically busy working on the S.T.A.R.T. Turtle Project in the Muskoka and Haliburton area. As facilitators of a "turtle hotline" designed to encourage locals to report turtles on the road, the team at Scales fielding nearly 500 calls this summer, including one crazy day June 13th when 67 calls came in from 6:50am to 9:45pm — a record high for this initiative in the middle of turtle nesting season. Hatchings continue to be released as the S.T.A.R.T project continues to reflect the ongoing need for turtle conservation efforts in the area. Here are the results:
HATCHLINGS:
8,358 – number of eggs collected and incubated (21 Blanding's Turtle nests, 43 Midland Painted Turtle nests, 257 Snapping Turtle Nests
6,947 – number of eggs hatched (Midland Painted Turtles, Snapping Turtles and Blanding's Turtle)
ROAD RESULTS:
185 – number of deceased turtles found on roads
185 – number of alive turtles found on roads that were moved and saved
465 – calls to the Turtle Hotline
OTHER:
10 – number of nests caged for protection from predators
601 – number of Painted Turtles encountered in the wild
416 – number of Snapping Turtles encountered in the wild
229 – number of Blanding's turtles encountered in the wild
85 – number of spotted turtles encountered in the wild
11 – number of Map Turtles encountered in the wild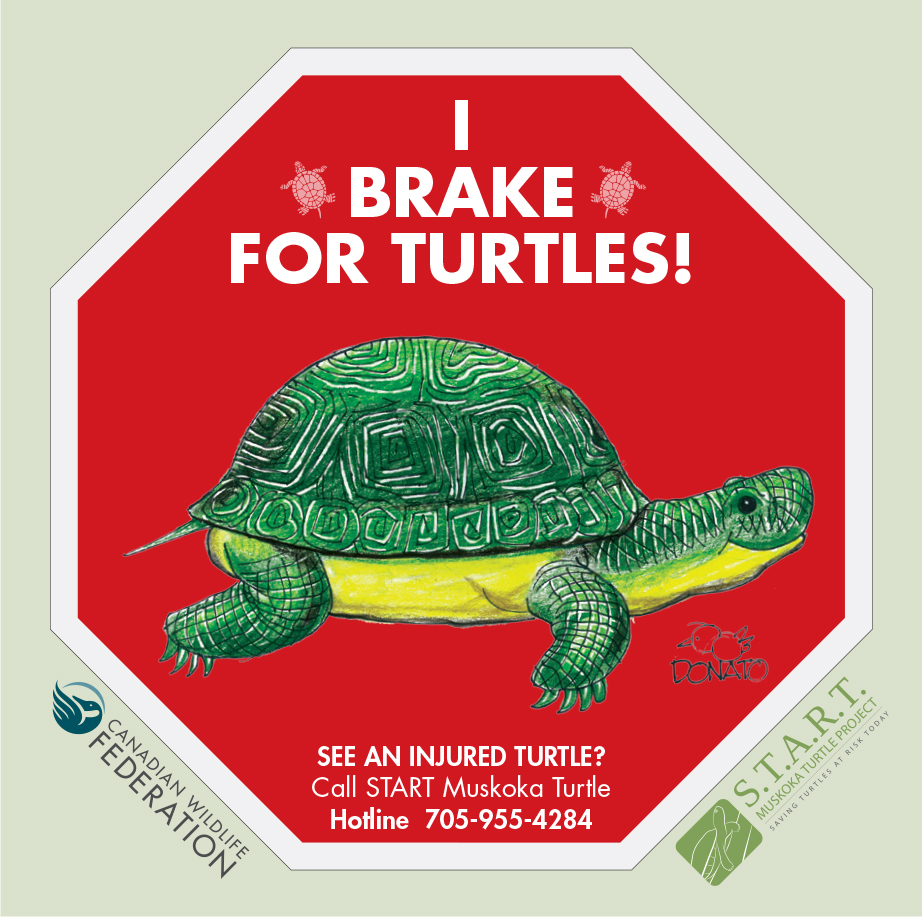 Conservation
Freshwater turtles as a whole are in decline throughout Canada. Seven of the eight freshwater turtles found in Canada are at risk. The remaining species are designated to be at varying degrees of endangerment.
The threats are relatively well studied. Road mortality and habitat loss are having the largest impact on turtle populations in general. Turtles often have to cross roads to find suitable nesting sites, which puts females at risk of being struck by vehicles. These females should lay eggs for decades to produce the next generation of turtles, and if they are killed the next generation will be reduced or even eliminated. The roadsides themselves often prove to be a nesting site of choice since they contain ideal gravelly shoulders, but this places both the females and young in a dangerous high traffic area.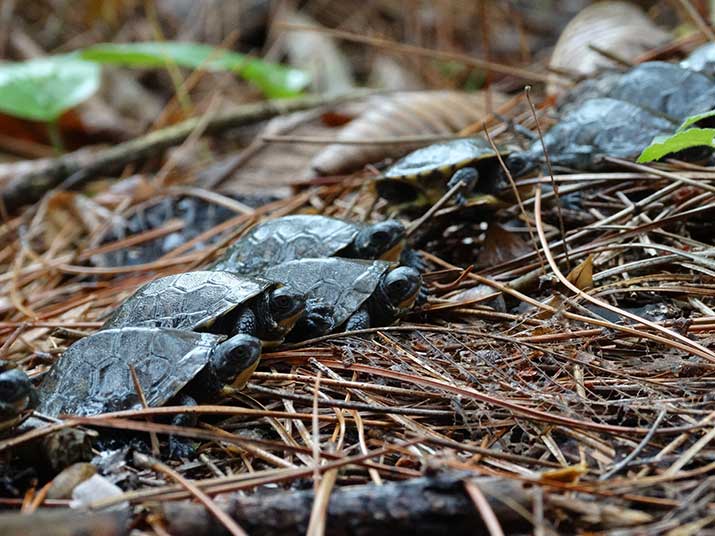 Community Outreach
S.T.A.R.T. project staff continue to participate in a number of festivals and community events in Muskoka and surrounding area. Public engagement and awareness is essential in turtle conservation. Engaging the local community bolsters support for turtle conservation and can lead to direct actions to safeguard turtles. Things you can do to help include the following:
Healthy turtle populations start with a healthy habitat. Help improve turtle habitat by participating in local lake, river or community cleanups.
If you find turtles in a safe place, leave them there.
Don't litter
If you see a turtle on the road, and it is safe for you to help it, please move it across in the direction it was going. Don't take it back to the water- it may be going to lay eggs somewhere else!
Leave fallen trees and branches in place along shorelines. Turtles use these as a platform for basking in the sun.
Don't buy real tortoiseshell barrettes, brushes, ornaments or jewellery.
Support CWF and its turtle and habitat projects.
If you find an injured turtle, you can take it to a wildlife rehabilitation centre for treatment. Saving one turtle can be a big help, since they are supposed to live for such a long time and lay eggs every year.

Coordinated by

Thank you to our partners for investing
in the future of turtles in Canada.