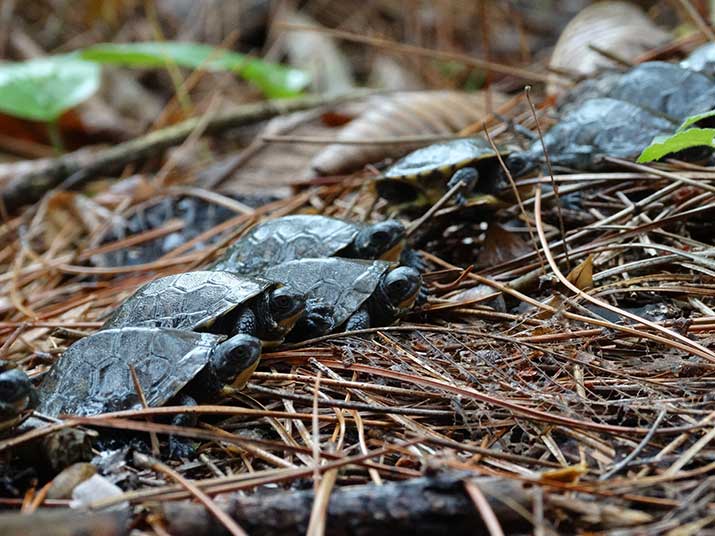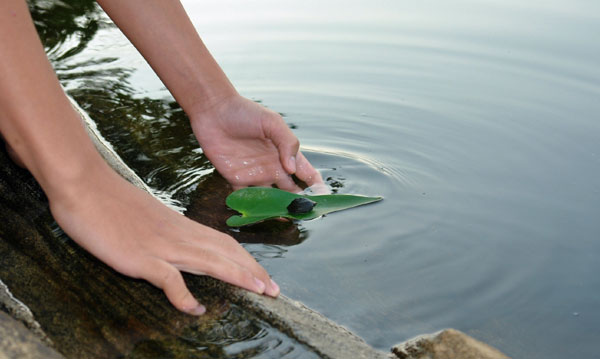 Freshwater turtles as a whole are in decline throughout Canada. Of the eight freshwater turtles found in Canada, only one subspecies is stable. The remaining species are designated to be at varying degrees of endangerment.
The threats are relatively well studied. Road mortality, habitat loss nest predation and poaching for the pet trade are having the largest impact on turtle populations in general. Turtles often have to cross roads to find suitable nesting sites, which puts females at risk of being struck by vehicles. These females should lay eggs for decades to produce the next generation of turtles, and if they are killed the next generation will be reduced or even eliminated. The roadsides themselves often prove to be a nesting site of choice since they contain ideal gravelly shoulders, but this places both the females and babies in a dangerous high traffic area.
Habitat can be lost through normal changes in an aging ecosystem, but more prominently, the rapid rate of wetland loss due to urban expansion, cultivation and road construction is a primary concern.
CWF has been working with regional partners, community groups, lake associations and individuals to reduce risks to turtles. We continue to carry out on the ground surveys to document at risk turtle locations and their habitat; we have undertaken an analysis of hotspots where turtles are more susceptible to being hit on the road; we continue to work with partners to outfit turtles with radio transmitters to track movement, habitat use, nesting sites and overwintering sites.
How You Can Help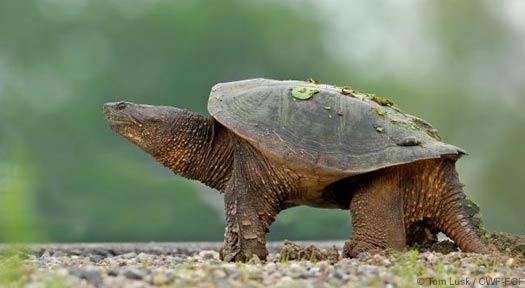 Let us know if you see a turtle! You can be a citizen scientist and help in turtle conservation by reporting occurrences. This is critical information so we can keep a handle on the population and with more eyes out there find many new occurrences.
Public engagement and awareness is essential in turtle conservation. Talk to your neighbours and the local community to bolster support for turtle conservation which can lead to direct actions to safeguard turtles.
You can be a turtle ambassador and let your councilors know about areas of high turtle mortality so fencing and/or a turtle crossing sign can be installed. And encourage the rest of your community to do the same.
Drive safely and slow down when approaching areas where wetlands are close to the road. This will give you enough time to safely swerve around a turtle.
If you find turtles in a safe place, leave them there. But if they're not in a safe place, like on the road, please give them a helping hand. Just make sure to move it across in the direction it was going. Don't take it back to the water- it may be going to lay eggs somewhere else!
Healthy turtle populations start with a healthy habitat. Help improve turtle habitat by participating in local lake, river or community cleanups. Keep wetlands intact on your property and tell your councilors and neighbours that they are an important feature in your municipality
If you've seen a turtle nesting on your property, mark the nest so that you don't accidentally walk on it or dig it up later in the summer. This way you can also keep an eye out for predators and ward them off. You could even go one step further and create a nest site consisting of a pile of gravel or sand.
Leave fallen trees and branches in place along shorelines. Turtles use these as a platform for basking in the sun. If there aren't any, you could even place some logs to give them a spot to bask.
Don't buy real tortoiseshell barrettes, brushes, ornaments or jewelry.
Support CWF and its turtle and habitat projects.
If you find an injured turtle, you can take it to a wildlife rehabilitation centre for treatment. Saving one turtle can be a big help, since their lifespan is several decades and lay eggs every year.
Turtle projects throughout Canada: