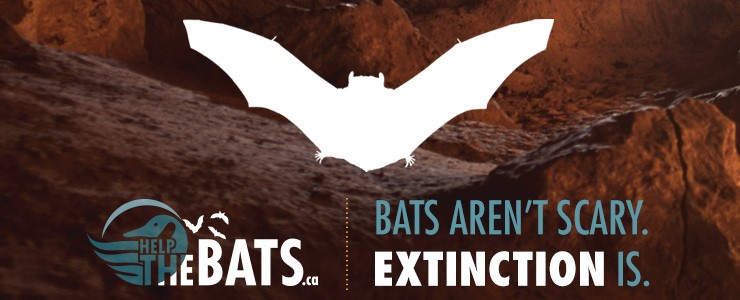 WHY BATS ARE IMPORTANT
Bats are amazing animals that are vital to the health of our environment and economy. Although we may not always see them, bats are hard at work all around the world each night – eating thousands of insects, pollinating flowers, and spreading seeds that grow new plants and trees. Step outside around dusk and take a few moments to look for bats in your neighbourhood!
WHAT'S PUTTING OUR BATS AT RISK?
White-nose syndrome (WNS) is a disease caused by the fungus Pseudogymnoascus destructans. This fungus grows on the exposed skin of bats as they hibernate during the winter in caves and mines. The cool temperatures of these hibernating sites allows the fungus to grow and spread throughout the site and on the bats themselves. The disease shows up as a fuzzy white substance on their ears, wings and muzzles. However, this isn't the only damage this fungus causes. Internally the bat's muscle tissues and blood vessels are affected and the bats end up dying as a result of dehydration (they lose water and electrolytes from their wings) and starvation (they wake up from hibernation more frequently using their fat reserves which can't be replaced as flying insects are not available). The results of WNS are devastating with some Canadian populations down by 90 percent in only three years.
The results of WNS are devastating with some Canadian populations down by 90 percent in only three years.
WNS is a fairly new disease. Although it's now considered native to Europe it was only first observed in 2006 in New York and not until 2010 in Canada. Much research is being done including establishing baseline data on bat populations, learning about native cave fungi, looking for techniques to stop or control the spread of WNS, and establishing research priorities and best management practices. It's quite amazing what has been learned so far!
HelpTheBats.ca is the Canadian Wildlife Federation's response to ensure Canadian bat populations are protected. The HelpTheBats.ca program engages schools and other groups in learning about Canadian bat species and the current threats to their survival, including habitat loss and white nose syndrome. This disease is decimating bat colonies across Eastern Canada. Our outreach program has engaged over 2,000 schools and groups across Canada, with a citizen science component that has distributed hundreds of bat boxes and educational materials,

all designed to encourage people to monitor bats in their area and send us their data.
WHAT YOU CAN DO TO HELP
Remember, sometimes even bats need a superhero! Thanks for stepping in to be one.
YOU CAN STILL HELP THE BATS!