CWF invites you to host a "BAT PULL." Bats need to eat lots of different insects to stay healthy. Plants native to Canada support a hug variety of insects Canadian bat species love to munch on; INVASIVE PLANTS, like the ones listed below, don't support the insect populations bats feed on. To "Be a hero to bats," we invite you, your friends and family to conduct at "BAT PULL" of invasive plants! Sometimes, even bats need a superhero. Thanks for stepping up to play the part!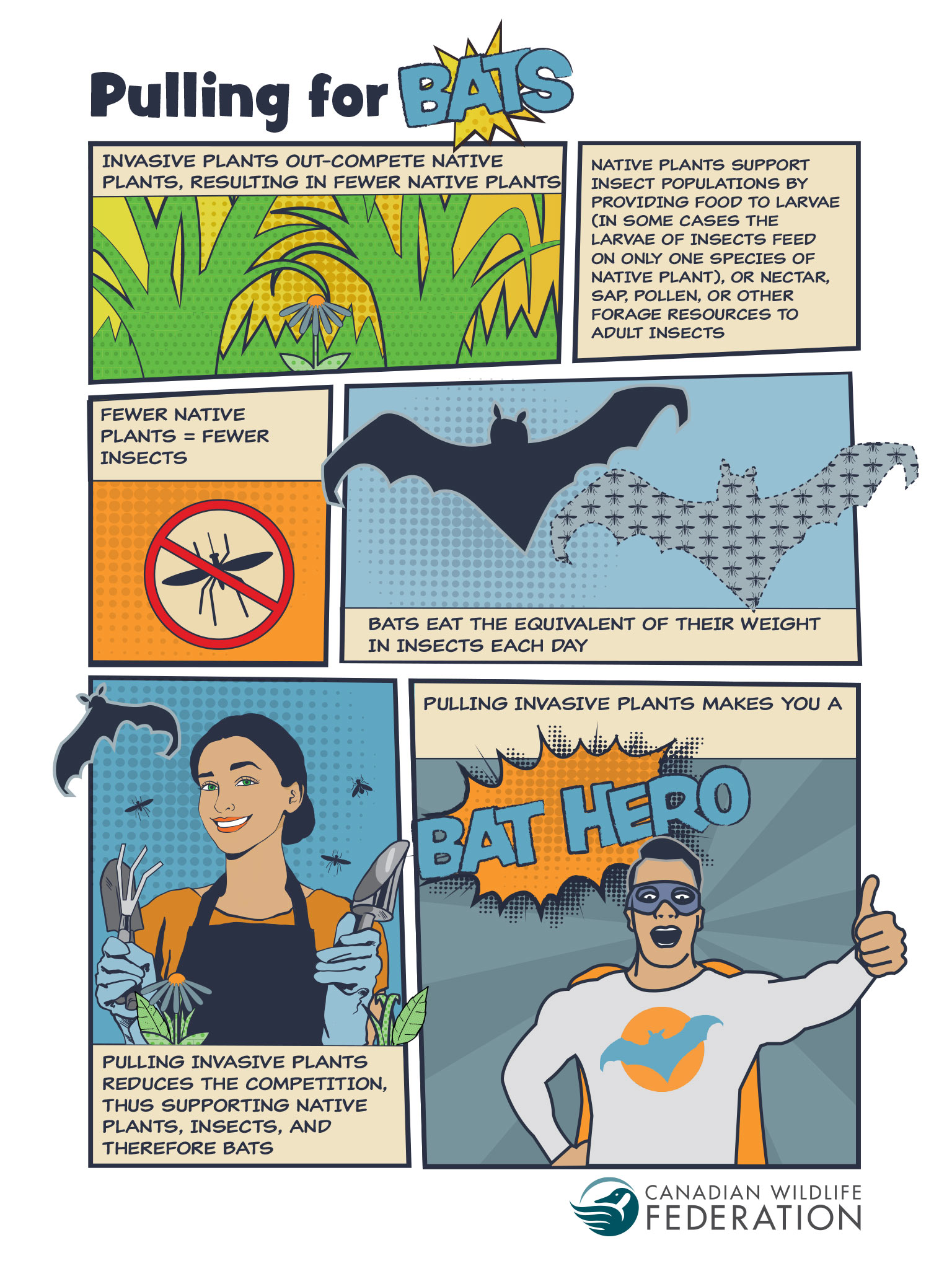 Helping Species at risk
Invasive plants you should be looking to pull out during your bat pull:
European Buckthorn
Glossy Buckthorn
Scotch Broom
Purple Loosestrife
Phragmites (not easy to pull)
Japanese Knotweed
Garlic Mustard
Tartarian Honeysuckle
Wild Parsnip – CAUTION: can cause severe skin irritation
Giant Hogweed – CAUTION: can cause severe skin irritation
Ragweed
Common Burdock
Orange Daylily
English Ivy
Mullein
Himalayan blackberry
Lilac (again a common ornamental that people have in yards)
European Alder
Russian Olive
Once The "Pull" Is Done, Start The "Push" To Get Certified!
Since you're already working to rid your garden of invasive species, why not plan to incorporate new elements that would make your garden eligible for official "certification" from CWF. Our Backyard Habitat Certification Program recognizes the amazing efforts Canadians are taking to meet the habitat needs of wildlife, and allows individuals to have their property certified by officially designating their gardens as wildlife friendly. Whether you have a small patio or acres of land, your property may receive certification once specific criteria and established best practices are met.