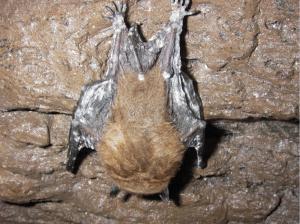 Canadian Wildlife Federation Welcomes Species At Risk Act Listing of Three Bat Species
The Canadian Wildlife Federation is pleased by the announcement that three bat species (the Little Brown Myotis, the Northern Myotis and the Tri-coloured Bat) will now be listed under the Species at Risk Act (SARA), providing the bats and their habitats with legal protection on Federal lands and requiring that a recovery strategy be put in place within one year.
White-nose syndrome (WNS) is a disease caused by the fungus Pseudogymnoascus destructans. This fungus grows on the exposed skin of bats as they hibernate during the winter in caves and mines. The cool temperatures of these hibernating sites allows the fungus to grow and spread throughout the site and on the bats themselves. The disease shows up as a fuzzy white substance on their ears, wings and muzzles. However, this isn't the only damage this fungus causes. Internally, the bat's muscle tissues and blood vessels are affected. Sadly, bats end up dying as a result of two things: dehydration since they lose water and electrolytes from their wings; and also starvation as they wake up from hibernation more frequently and end up using their fat reserves which can't be replaced as flying insects are not available during the dead of winter.


The results of WNS are devastating with some Canadian populations down by 90 per cent in only three years.
WNS is a fairly new disease. Although it's now considered native to Europe, it was only first observed in 2006 in New York and not until 2010 in Canada. Much research is being done on the disease, including establishing baseline data on bat populations, learning about native cave fungi, looking for techniques to stop or control the spread of WNS, and establishing research priorities and best management practices. It's quite amazing what has been learned so far! And you can help too! Be sure to read our Bat Conservation Specialists blog called "Bat Citizen Science Opportunities". You can learn about ways to help as well as who to contact if you see a bat outside this winter.
What You Can Do Today
White nose syndrome is an intimidating foe, but by taking action in partnership with CWF you can help bats fight back. Your contribution could be as simple as purchasing one of our unique "Keep Bats Undead" t-shirts or CWF-branded bat boxes. A bat box is a wonderful way to offer bats in your area a safe haven once they come out of hibernation this spring. You can also download plans from the CWF website to build your own. It's simple and easy to do. These are small steps but they go a long way to helping CWF continue its efforts to save the bats! Remember, sometimes even bats need a superhero. Thanks for stepping up to be one.
Help The Bats in Your Backyard (or Schoolyard!)
Although it is time to take down your bat boxes, there are still things you can do to help — even if it is just getting ready for next spring when the boxes go back up!