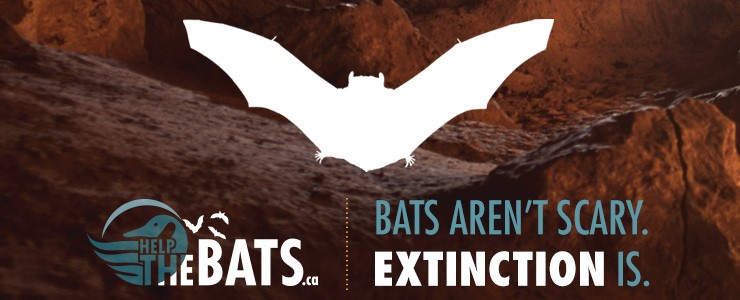 SPRING BATS! IT'S TIME TO PUT UP YOUR BAT HOUSE!
Bats are now returning from their migrations and others are coming out of hibernation, so the Canadian Wildlife Federation is encouraging you to put up a bat house this month to attract these wonderful creatures that could use a place to stay. There are many threats facing bats today including white nose syndrome, habitat loss, wind turbines, pesticides to name a few. And remember, bats eat mosquitoes so give them a chance!
WHY BATS ARE IMPORTANT
Bats are amazing animals that are vital to the health of our environment and economy. Although we may not always see them, bats are hard at work all around the world each night – eating thousands of insects, pollinating flowers, and spreading seeds that grow new plants and trees. Step outside around dusk and take a few moments to look for bats in your neighbourhood!
WHAT'S PUTTING OUR BATS AT RISK?
White-nose syndrome (WNS) is a disease caused by the fungus Pseudogymnoascus destructans. This fungus grows on the exposed skin of bats as they hibernate during the winter in caves and mines. The cool temperatures of these hibernating sites allows the fungus to grow and spread throughout the site and on the bats themselves. The disease shows up as a fuzzy white substance on their ears, wings and muzzles. However, this isn't the only damage this fungus causes. Internally the bat's muscle tissues and blood vessels are affected and the bats end up dying as a result of dehydration (they lose water and electrolytes from their wings) and starvation (they wake up from hibernation more frequently using their fat reserves which can't be replaced as flying insects are not available). The results of WNS are devastating with some Canadian populations down by 90 percent in only three years.
Read more »
WHAT WE'RE DOING
As a means to promote the protection and recovery of the little brown myotis, CWF is collaborating with humane wildlife control companies to develop best management practices for their professional management of bats by: (1) incorporating the use of bat houses in service protocol; (2) promoting cohabitation with bats; (3) promoting alternative roosting sites via retrofits; (4) increasing public awareness, community engagement, and citizen science.
Post your photo, video or update using #helpthebats
You Can Still Help the Bats!