Update from Canada's Bat Experts
You might not know this, but bats are more closely related to humans than they are to rodents. And like humans, bats like a nice warm place to hang out over the winter.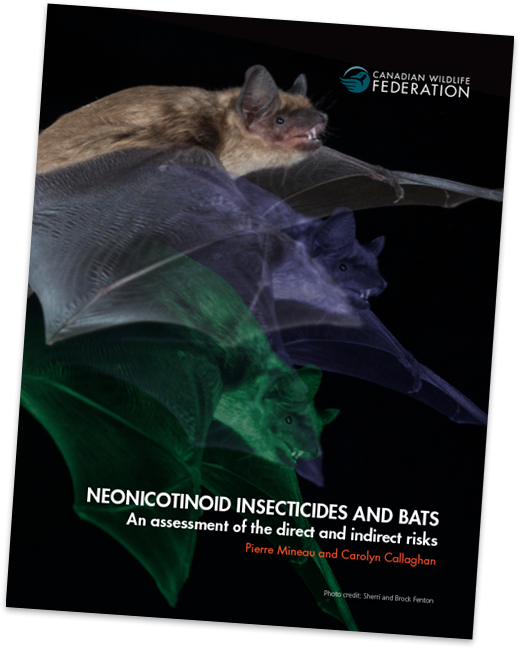 Read "Neonicotinoid Insecticides and Bats" Scientific Report

Read Report
Where Do Hibernating Bats Go?
Canadian bats typically migrate or hibernate during the winter. The bats that hibernate will usually seek out caves to hunker down in over the winter months.
Roosts
Roosting sites play a major role in the survival of all bats by providing shelter from weather and predation. They're also areas where bats can socialize and spend time together. Sadly, in some areas where white-nose syndrome (WNS) has been found, this can lead multiple bats to become ill as the disease is spread.
Hibernacula
Hibernacula (winter shelter) offers stable microclimates that are preferred by hibernating bat species because fluctuations in temperature can cause them to wake up from their torpor state and use up valuable energy reserves.
Buildings
Anthropogenic, or human, structures are often used as hibernacula by a number of bat species, including species at risk like the Little Brown Myotis, Northern Myotis, and Eastern Small-footed Myotis. Loss of natural habitat has contributed to some bat species becoming more reliant on anthropogenic structures.
Many at-risk bat species use these sites as day or maternity roosts. But they are less likely to overwinter there since the environmental conditions like humidity or temperature may not be stable. Of course, this depends on the province. In many provinces, bats have been known to overwinter in the same locations as they used for maternity roosting. In Ontario, it is quite common for Big Brown Bats to use anthropogenic structures as hibernacula.
The Danger in Evicting Bats
The number of bat colonies may be declining as a result of landowners resorting to evicting bats from their properties instead of managing them. Evictions from hibernacula are particularly harmful to female bats since they tend to stick to the same locations, and may not find another place to roost. Experts agree that evicting bats from hibernacula in anthropogenic structures is considered habitat loss, much in the same way habitat loss would occur if a cave site was demolished. However, hibernaculum in anthropogenic structures are not managed as critical habitat which makes it difficult to help these bat species that rely on buildings, barns and other anthropogenic structures to get by. Big Brown Bats in particular are at risk as they do not tend to switch roosts. Therefore, the impacts of evictions from hibernacula may be particularly detrimental to their survival.
Another issue that bats and humans alike deal with is timing. Removing and blocking a winter colony is challenging since bats rarely come out through the winter. Suitable hibernation habitat is not as easy for bats to find. When bats are evicted from their winter habitat they may not have an alternative site and may potentially die. As observed in Big Brown Bats, the tendency to return or stay in one location throughout the year may limit a bat's drive to seek an alternative. Therefore, getting the timing right is critical when landowners decide to remove bats from a location.
Living With Bats
Did you know that eviction is not the only option? Unless bats are causing health problems to human occupants, it's perfectly good to leave maternity roosts (especially for at-risk species) and established long-term hibernacula in place. The site should be retrofitted to make the roost more attractive to the bats and decrease – or even eliminate – the frequency of interactions between the roosting bats and the landowner. Safety and health of the landowner is most important and there are ways to improve the roost that promote survival and minimize health impacts for humans. For example, yearly maintenance provided by a nuisance wildlife control operator can include annual maintenance of guano by trained professionals.
Eviction Day
If you must evict bats from a roost or hibernacula, here are the best times of year to consider in order to ensure their survival.
| Roost Type | Big Brown Bat | Little Brown Myotis (or other SAR species) |
| --- | --- | --- |
| Day Roost | Evict early Spring (before May 1) or Autumn (after September 1) | Evict early Spring (before May 1) or Autumn (after September 1) |
| Maternity Roost | Plan to retrofit; exclusion during spring only (before May 1) | Plan to retrofit; exclusion during spring only (before May 1) |
| Hibernacula / over-winter roost | Plan to retrofit; exclusion during spring only (before May 1) | Rare, Do not evict. Retrofit |
You Can Help! Build Your Own Bat House
Provide a roosting site for a female bat and her pup! The Canadian Wildlife Federation is here to guide you through every step. Begin by downloading these free DIY instructions.
Spring and summer are important seasons, especially for female bats. Building a bat house will provide a roosting site for a female bat to have her pup. The majority of Canadian bats only have one pup per year, so providing them safe haven is vital to survival and population growth. Bats also make great neighbours; they help control insects through spring and summer.
Download this FREE "How to Build a Bat House PDF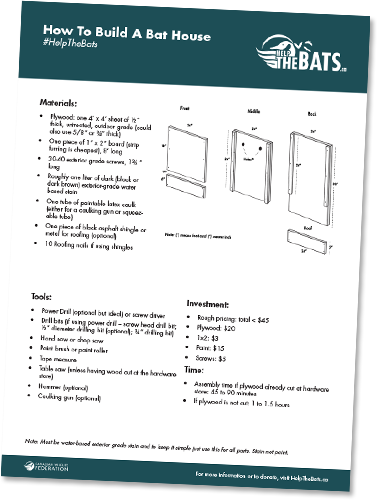 Millions of bats have died in Canada over the past 10 years. They may not recover without our help. ~Mike Anissimoff, CWF Bat Conservation Specialist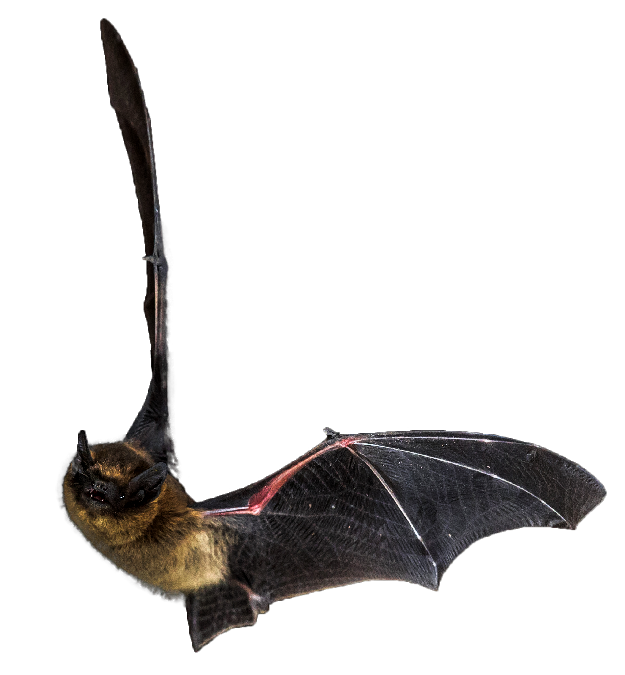 The Challenge
Bats are amazing animals that are vital to the health of our environment and economy. Although we may not always see them, bats are hard at work all around the world each night – eating thousands of insects, pollinating flowers, and spreading seeds that grow new plants and trees. However, many of our bats are under threat of habitat loss, pesticides, white-nose syndrome and more.
Donate now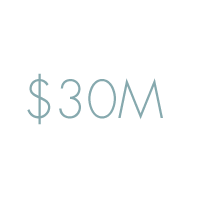 Bats save the Canadian agricultural industry millions each year. Many Canadian bats give birth to only one pup per year and thus have a very slow population growth.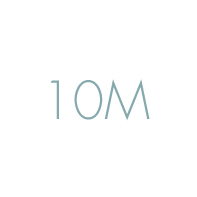 WNS has killed upwards of ten million bats across eastern North America.
Sign up for the monthly e-newsletter
The Canadian Wildlife
Federation's Role in
Bat Conservation
As a means to promote the protection and recovery of the Little Brown Bat, CWF is collaborating with humane wildlife control companies to develop best management practices for their professional management of bats by:
→ Incorporating the use of bat houses in service protocol → Promoting cohabitation with bats → Promoting alternative roosting sites via retrofits → Increasing public awareness, community engagement, and citizen science
Featured Story
Stressed Out Mamas
Roosting bats need all the help they can get during the warmer months. In early spring, female bats seek out suitable maternity roosts in which to raise their young who are typically born between June and July. These roosts are greatly important to the survival and recovery of bats.