Update from Canada's Bat Experts
You might not know this, but bats are more closely related to humans than they are to rodents. And like humans, bats like a nice warm house to return to after winter.
Spring is a critical time for the Little Brown Bat, currently one of Canada's most endangered species. You can help provide sanctuary for this important species by building your own bat house!
You Can Help! Build Your Own Bat House
Provide a roosting site for a female bat and her pup! The Canadian Wildlife Federation is here to guide you through every step. Begin by downloading these free DIY instructions.
Spring and summer are important seasons, especially for female bats. Building a bat house will provide a roosting site for a female bat to have her pup. The majority of Canadian bats only have one pup per year, so providing them safe haven is vital to survival and population growth. Bats also make great neighbours; they help control insects through spring and summer.
Who Wants to Live With Bats??!!
Well, we do! Canadian bats have a tremendous appetite and play the critical role of nature's insect control, saving the agriculture industry millions of dollars each year. The Bat House Program is one of the Canadian Wildlife Federation's responses to ensure Canadian bat populations are protected. Before the bat houses are installed on a residential property, CWF bat experts will conduct a site visit to determine what type of bat species is present and the size of the colony. Sites where the Little Brown Bat is present and facing eviction will be given top priority, since this species is most endangered. Do you qualify for the Canadian Wildlife Federation's Bat House Program? Let's see:

Do You Currently Have Bats in Your Home?


Do You Live in the Ottawa Area?
If you answered yes to BOTH of these questions, you could be eligible for a FREE bat house! One of our experts here at the Canadian Wildlife Federation will happily install the bat house directly to your house or outbuilding.
Download this FREE "How to Build a Bat House PDF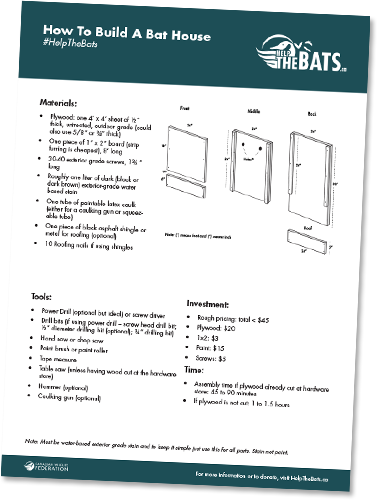 Millions of bats have died in Canada over the past 10 years. They may not recover without our help. ~Mike Anissimoff, CWF Conservation Specialist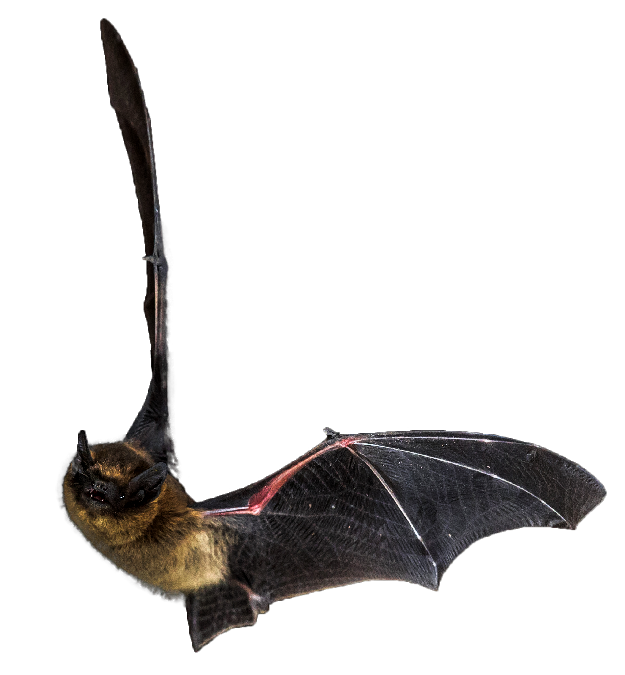 The Challenge
Bats are amazing animals that are vital to the health of our environment and economy. Although we may not always see them, bats are hard at work all around the world each night – eating thousands of insects, pollinating flowers, and spreading seeds that grow new plants and trees. However, many of our bats are under threat of habitat loss, pesticides, white-nose syndrome and more.
Donate now
1,300
More than 1,300 bat species worldwide display an amazing diversity as species evolved over at least 60 million years to survive in wildly varied habitats and food chains.
1
Many Canadian bats give birth to only one pup per year and thus have a very slow population growth.
10M
White nose syndrome has killed upwards of ten million bats across eastern North America.
Sign up for the monthly e-newsletter
The Canadian Wildlife
Federation's Role in
Bat Conservation
As a means to promote the protection and recovery of the Little Brown Bat, CWF is collaborating with humane wildlife control companies to develop best management practices for their professional management of bats by:
→ Incorporating the use of bat houses in service protocol → Promoting cohabitation with bats → Promoting alternative roosting sites via retrofits → Increasing public awareness, community engagement, and citizen science
Featured Story
Both an Ending and a Beginning for Almonte's Bats
The 46 bats that were rescued last winter were released into their new bat houses without incident. They were friendly, chatting the whole time, and very excited to get back to their old stomping grounds. The Big Browns are now supporting the local ecosystem by keeping the night-flying insects in check.