YOU ARE A HERO TO 46 BATS THIS CHRISTMAS
Earlier this month, we sent an urgent request to raise $5,070 by Christmas to give 46 rescued bats a special home for the winter …and guess what,
YOU MADE IT HAPPEN!!
THANK YOU FOR HELPING TO GIVE THE BATS A SAFE REFUGE OVER THE WINTER!
In early December, several parishioners of a heritage church in Almonte noticed that a colony of Big Brown Bats were hanging on the wall of the church, unable to get into their traditional wintering roost. Given the time of year this was unusual. These parishioners were worried about the fate of the bats and called the local Mississippi Valley Field Naturalists to inquire what could be done. The local naturalist alerted our conservation biologists at CWF who focus on bat conservation and we assessed the situation.
"The bats were clinging to the stone exterior wall of the church, some alone, and some in clusters. It seemed very unlikely that they would fly anywhere else. With colder temperatures that were due to arrive soon we knew that if we didn't move them to a shelter for the winter, they would slowly freeze to death," said Mike Anissimoff, bat specialist with CWF.
Soon after, a plan went into action and in partnership with Rideau Valley Wildlife Sanctuary, we were able to rescue 26 bats. But, there were 20 more beyond our reach!
WHO DO YOU CALL WHEN YOU NEED A VERY LONG LADDER? YOU CALL THE FIRE DEPARTMENT!
And that's exactly what happened. Pascal Meunier Fire Chief of the Mississippi Mills Fire Department agreed to help. He organized a crew and fire truck to meet CWF at the church on Sunday afternoon.
"The crew were very professional. They didn't once back away from this challenge and before long all of the remaining bats were collected," said Anissimoff.
All 46 bats are now in the care of the Rideau Valley Wildlife Sanctuary. The cost to house these bats for the winter is $7,800.
Thankfully, at this time, Brunico Communications Inc. has raised $2,730 for CWF at one of their events. They have graciously given us permission to put this full amount toward housing these bats. Read the full story here.
Millions of bats have died in Canada over the past 10 years. They may not be able to recover without our help!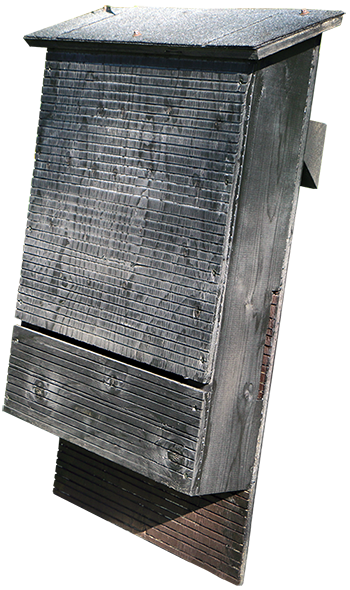 CWF Bat House Program
As of November 1, 2017, the CWF Bat House Program is closed until Spring 2018. We would like to thank everyone who supported this vital initiative to help the recovery of our Canadian bats. We had an overwhelming amount of interest and participants during this year's program and we look forward to connecting with you again in the spring.
Thanks to Hackberry Men's Shed
CWF has engaged the Hackberry Men's Shed to construct the bat houses for our Bat House Program. The Hackberry Men's Shed was established in 2015 and is a member of the Canadian Men's Sheds Association. This association helps men overcome isolation, loneliness, depression, post retirement and loss of life. The men collaborate on various projects, typically projects that benefit the community and work to preserve and share life skills and knowledge.
For more information on the Hackberry Men's Shed visit mensshed.ca or find them on Facebook at Lanark County Men's Sheds
Learn more