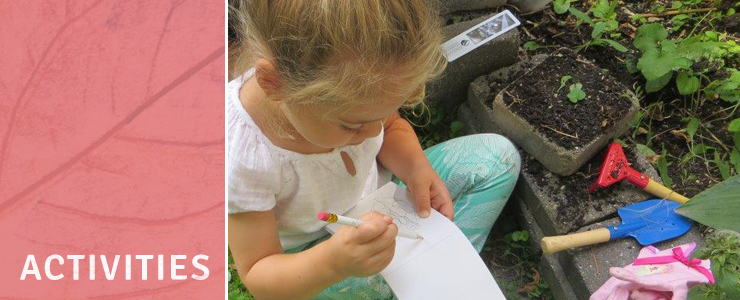 Grow plants from seeds that:

Mature quickly such as radishes
Taste good such as mint
Produce interesting foliage or flowers such as carrots and zinnias

Follow the child's lead to encourage curiosity, creativity and fun learning experiences.
For very young children, consider relating the activity to what they know. For instance, planting a seed is like being tucked into bed.
Don't let the weather stop you. Gentle rain or morning frost can stimulate your child's senses and creativity in new ways.
Some plants, like poison ivy, ragweed and even squash leaves, can irritate or trigger allergies. You probably know the plants in your garden, but be mindful if you are planning on touching and smelling plants elsewhere. Find out about potentially irritating plants in your area through local garden or nature clubs or your provincial ministry dealing with natural resources.
Many activities can be done with household items such as old funnels, jugs, sieves, spoons and ice cube trays. It's amazing how many ways a child will just dive in and find uses for these simple items.
For very detailed activities, consider planning ahead to get a sense of how to support the child, when best to do the activity or how much set up time you need (if any) before you involve your child, both for safety and interest purposes. Older children may want to participate in the preparation, so keep in mind their interests and abilities for all steps.