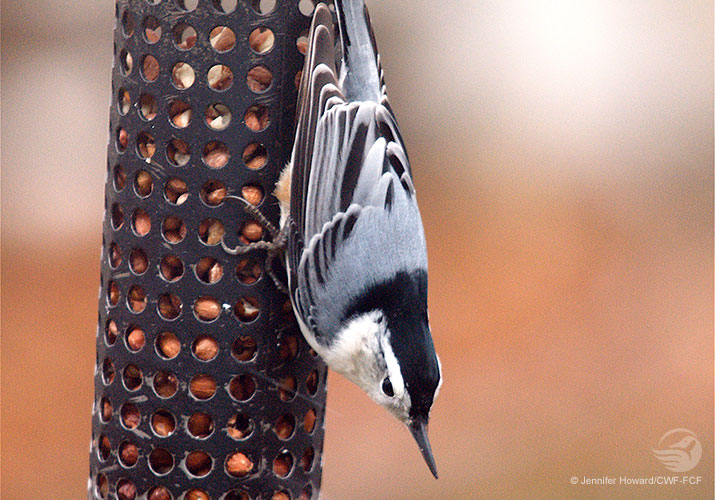 As you sit in your living-room, you hear the ghastly thud of a bird crashing into the window. You race outside, only to discover the lifeless body of a beautiful little goldfinch. It is a truly heartrending experience and one you can help prevent.
Millions of birds die every year because of collisions with human-made structures. The windows that allow us to ponder the beauty of the world outside are also a serious threat to the lives of the very creatures we love to watch. The reflections of trees, shrubs, and sky in glass convince birds they have a clear passage to safety. Birds enjoying the bounty of a nearby feeder can startle easily and catapult into this hidden danger.
You can help to avert such tragedies by breaking up the reflective surfaces of your windows. Some presumed solutions, like sticking individual decals or hawk silhouettes on window panes, do not seem to work. However, the following methods have shown positive results:
Cover windows with netting (available from garden supply stores). This material should cover the entire window, be somewhat loose so the slightest breeze alerts birds to its presence, and be coloured white if possible to optimize visibility.
A black nylon screen on the outside of a window can help eliminate reflections. Leave space between the window and the screen as a safety margin.
Hang used CDs outside the window to ward off birds.
Hang lengths of ribbon, silver paper, or other material outside the window so they will flutter in the wind.
Place feeders and bird-baths less than one metre, or more than three metres, away from your house so birds will be too close to build up speed or too far away to be likely to crash into your windows.
Closing curtains and blinds helps prevent collisions, especially where windows at the front and back of a house face each other, creating the illusion of a clear passage through.
Shutting off lights at night in high-rise buildings or schools and homes on mountainsides or, alternatively, closing curtains in illuminated rooms will prevent deaths and injuries caused by "fatal light attraction."
For more information on this threat, contact:
The Fatal Light Awareness Program,
Royal Bank Plaza
Lower concourse, Box 20
Toronto, ON, M5J 2J1
(905) 831-FLAP (telephone)
www.flap.org
If you find a bird that has collided with a window, you can help:
* If it is injured or stunned, place it carefully in a cardboard box or paper bag. (Grasp the bird gently around its shoulders.)
* Punch air holes in the top and sides of the box.
* Line the box with paper towels. Place the bird upright so it is resting on its stomach.
* Do not give the bird any food or water. Leave it undisturbed for about an hour in a warm, quiet, dark area. If, after an hour, it appears unharmed and alert, release it outside.
* Allow it to fly away on its own rather than launching it. If, after an hour, it still cannot fly or shows signs of injury, call for help. Your provincial wildlife agency can direct you to a bird rehabilitation centre near you.

You can help to avert such tragedies by breaking up the reflective surfaces of your windows.