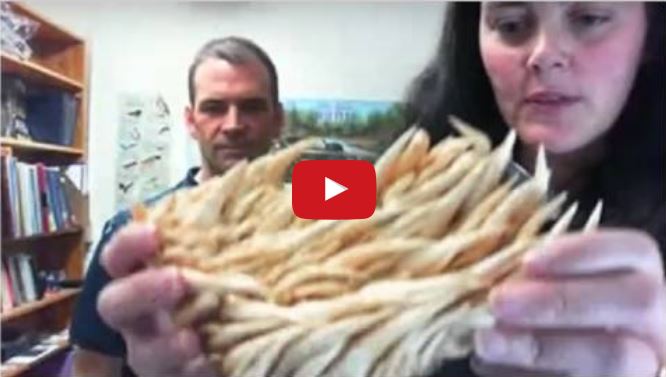 Following Leatherback Sea Turtles as they Migrate to their Southern Nesting Grounds
CWF Marine Manager, Sean Brillant and Kathleen Martin, Executive Director from the Canadian Sea Turtle Network talk all about leatherback turtles and everything you wanted to know including habitat, diet, nesting and migration. CWF and Canadian Sea Turtle Network have teamed up to tag and track turtles as part of the Great Canadian Turtle Race on their southern migration to their nesting sites throughout the Caribbean.
Calling all Educators!
If you and your classroom are following the Great Canadian Turtle Race and your group can't get enough, consider signing up for CWF's WILD Migration online classroom and joining in for a web presentation on leatherbacks.
Order a Free Poster!
All it takes is two easy steps and we'll mail you our 'Wild About Turtles' poster:
1. First, SIGN UP to follow the Great Canadian Turtle Race.
Online Learning
The WILD Migration online classroom, hosted by TakingITGlobal, allows students to engage in learning activities about iconic migrating species and interact with other participants from across the country. The activities are curriculum linked and are best suited for students in grades five to eight. There are three special activities related to leatherback sea turtles, why not begin with those?!
Sign up for the WILD Migration online classroom now.
Video Conference
Keep your eyes peeled for upcoming webinars!
In the meantime, your classroom can watch a livestreaming videoconference about leatherback sea turtles and the Great Canadian Turtle Race, that was held on November 18, 2015. Listen to discussions between our experts - CWF's marine programs manager, Sean Brillant, and the Canadian Sea Turtle Network's Executive Director, Kathleen Martin - and a selection of students from across the country and beyond. Find out how migrating leatherbacks live, where they go when they migrate, how they are affected by human activity, and gain a better understanding of our oceans and marine wildlife.
Watch the livestream here.