Why does a species become at-risk?
Species become at-risk when population levels are in danger of disappearing in the wild. Many factors contribute to a species population decline. This could be a result of human impacts such as direct mortality (such as road mortality, poaching/persecution), encroachment or alteration of their habitat, environment contaminants, and climate change; or from natural phenomena such as water level fluctuation, predation, disease and habitat changes.
Did you know? There are 640 plant and animal species in Canada considered at-risk. And nearly one-third of assessed species are threatened with extinction.
Did you also know? There are 37 species that no longer exist in Canada.
What is COSEWIC?
Since 1977, the Committee on the Status of Endangered Wildlife in Canada (COSEWIC) has been responsible for determining which species are listed as at-risk. The committee is made up of members representing federal, provincial and territorial agencies with independent specialists who assess the status of a species into one of the following five categories:


Special Concern – a wildlife species that may become Threatened or Endangered because of a combination of biological characteristics and identified threats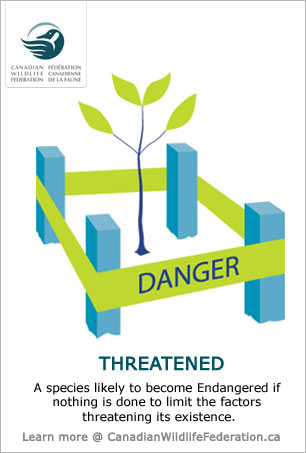 Threatened – a wildlife species likely to become endangered if limiting factors are not reversed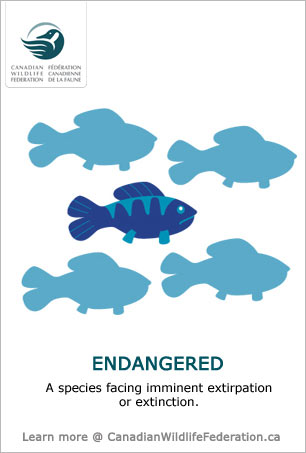 Endangered – a wildlife species facing imminent extirpation or extinction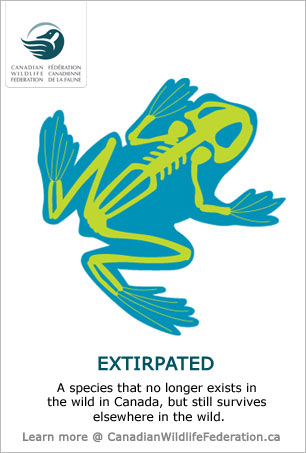 Extirpated – a wildlife species that no longer exist in Canada, but does exist elsewhere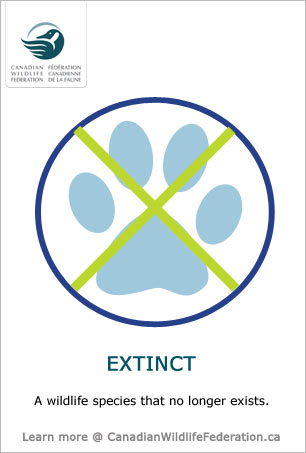 Extinct – a wildlife species that no longer exist
What is the Species at Risk Act (SARA)?
Once COSEWIC has assessed a species as being Extinct, Extirpated, Endangered, Threatened or of Special Concern, the federal government decides whether to include it in the Species at Risk Act. Once a species is protected by SARA the species receives legal protection and a recovery plan that outlines the steps needed to prevent the species from becoming Endangered or Extinct (unless, of course it has already been listed as such) and what is needed restoring a healthy population.
SARA is a key federal government program that is committed to preventing native wildlife species from becoming Extinct, and to securing the necessary actions for the recovery of those species that are already at risk.

You can visit www.sararegistry.gc.ca for more information about the SARA and an index of species at risk in Canada.
CWF and Species at Risk
CWF has a longstanding history working on species at risk and advocating on their behalf.
In the 1970's we were a key player in the establishment of COSEWIC which has since assessed more than 880 species to determine if they are at risk or not.
CWF is a member of the species at risk advisory committee which provides practical advice to and works with the federal government on the implementation of SARA
We have petitioned both the federal and provincial governments on key issues that needed improvement such as the recovery strategy for boreal caribou, providing protection for three endangered bat species and maintaining and implementing strong legislation.
CWF has provided over $1.84 million in species at risk research, including 111 research projects conducted, 77 species studied, and 70 scientific papers published
We've carried out on the ground work on species at risk in Canada: surveying for rare and cryptic species at risk to find additional areas in need of protection, establishing a freshwater turtle recovery program, developing a means of reducing species at risk by-catch in east coast fisheries, researching American eel movement patterns and more.
Sources:
Government of Canada – Committee of the Status of Endangered Wildlife in Canada
Government of Canada – Species at Risk Public Registry
Hinterland Who's who