What to Look for on the Trail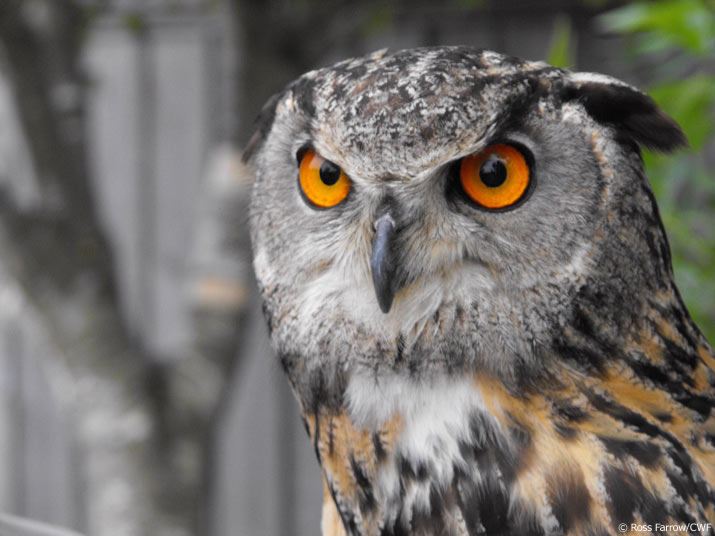 Whether you are walking around the block or on a nature trail, slow down and see if you can spot some signs of wildlife! You might want to make notes on a pad of paper or take pictures with your camera and then look them up in field guides to learn more. If you encounter their homes or the animal itself, remember to enjoy from a safe distance for both your safety and the animals'!
Browse
Look at plants, in particular the branches of trees and shrubs. Have they been chewed on by a hungry herbivore such as rabbit, hare or deer? Clean angled cuts are usually a sign of rabbits and hares while ragged looking ends are often from deer browsing.
Are the trunks of trees showing signs of feeding? Porcupines chew the bark off trees while woodpeckers make marks or holes while searching for and digging out insects.
Scat
Animal scat, also known as droppings, is another sign of activity to watch for. When animals eat woody food, their scat is drier. Rabbits and hares ingest their pellets to get as many nutrients as possible, so what is produced the second time around is especially dry! Animals who have feasted on berries will have wetter scat while those who include animals in their diet will have bones, fur or feathers in theirs.
Remember to also watch for bird scat. A flock of waxwings can leave behind many colourful droppings of the berries they ate and many whitish droppings under a tree may indicate a nest above.
Tracks
Tracks are one of the most common ways to see if an animal has recently passed by. Read the article by Chad Clifford "Discovering the World of Animal Tracks" for tons of great information on tracks. Also check out some past blog posts with tracks of Rodents and Rabbits and Red Fox.
If you find animal tracks that you want to look up later, take a photograph with a loonie or toonie, so you have perspective of size.
Tunnels, Runs and Dens
When snow begins to melt you may see meandering pathways that were the tunnels of small animals like voles, mice and shrews. If you see an area that looks like a long gap between trees or low vegetation, it might be a commonly used pathway of an animal, called a run. Sometimes you will be fortunate enough to discover the entrance to a home, such as a porcupine den with piles of scat outside.
Lays
While some animals spend the night in trees or dens, others lie on the ground. If you see large depressions in the snow or grass, it might have been the resting spot of a deer.
Fur, Feathers and more
Feathers are a common sign of an animal passing through. One feather usually means it was shed while many can mean it was attacked in that area. If you look closely you may notice fur caught on a twig - from one piece to a clump. If you look close to the ground you may discover a shed snake skin or the exoskeleton of a cicada.
Sounds
Take a moment to stop and listen. Do you hear any sounds around you? Perhaps a small creature moving through the leaves or the loud crashing sound of two squirrels chasing each other in the brush. A bird might be singing and insects calling.