FRIDAY
April 13
th
The Birds and Bees and Other Pollinators!
Industrialization and urbanization has meant most of us have never experienced life on a farm. Growing food and tending to a garden is often a foreign experience to many Canadians. Yet gardening is one of the simplest and most profound ways you can connect with nature. Thankfully, you have allies to support you as you explore the magic of planting seeds to watch things grow: pollinators! Bees, butterflies, moths and hummingbirds are just a few of over 1,000 species of pollinating animals in Canada, responsible for billions of dollars worth of Canadian farm produce and helping to sustain ecosystems.
Pollination is one of the most important processes on the planet, which is why anything that adversely affects our precious pollinators – from habitat loss and pesticide use to disease and climate change – needs to be taken seriously. Planting with the intent of providing habitat for pollinators isn't just about conservation, it's about rediscovering your own roots as a species reliant on the pollinators to feed us all!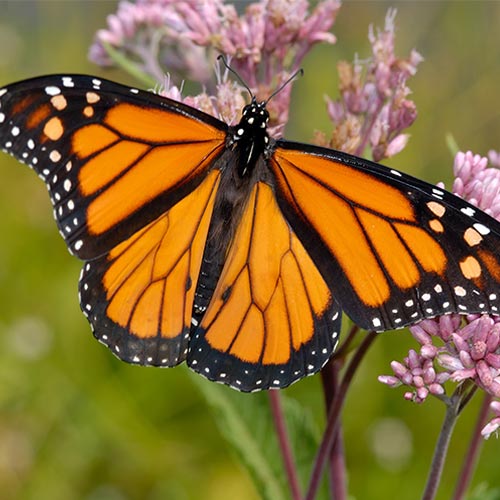 SPECIES SPOTLIGHT: Monarch
SCIENTIFIC NAME: Danaus plexippus
SPECIES INFO:
Adult wingspan is approximately nine to 10 cm. Adult (butterfly) wings are orange with black veins. The hind and forewings have a double row of white spots within a thick black border. There are pale orange and white spots near the tip of the forewing (apex). The underside is similar, though the hind wing is a paler orange. Its black body also has white spots. Newly hatched caterpillars (larvae) are pale green with a dark head. Mature caterpillars have black, white and yellow bands. They have a pair of black filaments (thin fleshy parts that resemble antennae) at the head and tail. The longer pair is at the head.