Bird Impact Reduction Day (B.I.R.D.) is April 11, 2017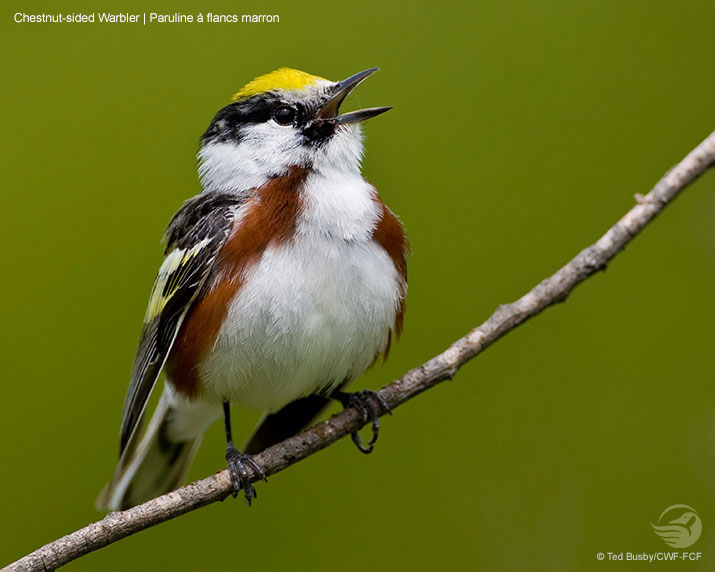 Windows are everywhere: in our homes, offices, stores, cottages...everywhere. To Canada's birds, the false azure of a windowpane can be a death sentence. Bird collisions with windows are a leading cause of bird death across Canada – careening into windows at speeds as high as 50km an hour, birds often die upon impact due to the resulting brain damage. About 25 million birds are killed by colliding with windows in Canada annually. Windows during the day reflect the surrounding landscape creating the illusion of safe passage and tall lit buildings at night impede natural migratory paths. During National Wildlife Week, CWF is teaming up with FLAP Canada on our Bird Impact Reduction Day (B.I.R.D.) initiative, raising awareness of the problem of bird/building collisions and sharing information on how we can all help reverse this threat to our winged species. On Tuesday, April 11, we'll be asking office buildings and corporate towers to turn off their lights for one evening in a show of support for the safety and wellbeing of our migratory birds. As homeowners, there are also steps you can take to help prevent bird fatalities.
THE PROBLEM:
Tall commercial structures can experience bird collisions both day and night.
Studies conclude that 1 to 10 birds collide with building windows each day. Toronto has over 940,000 registered structures with glass. This means that Toronto alone has the potential to kill between 1 to 10 million birds annually.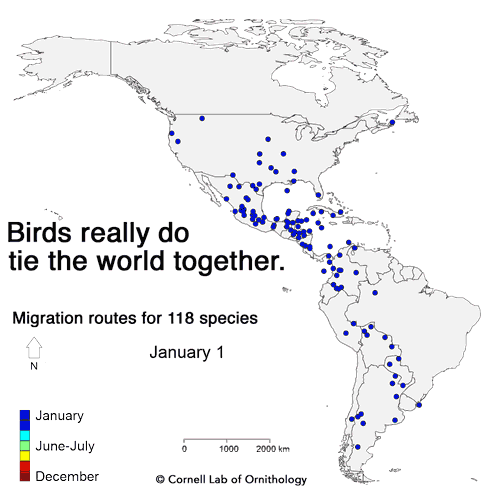 © Cornell
The Skies over North America: Home to Bird Migrations – and Bird Collisions!
Nighttime
Some 250 North American bird species are known to migrate at night
The bright light of tall buildings can disorient birds and attract them toward our built environments.
Once in a brightly lit area, birds hesitate to fly back into the darkness.
Birds tend to flutter within the lit areas until they drop from exhaustion. Some collide outright with the lit buildings. Some collide with each other.
Nighttime collisions can occur at any height of a lighted structure
Nighttime strikes can be higher where urban centres skirt large bodies of water.
Light escaping interior office spaces or floodlighting building exterior surfaces both attract birds.
Spots lights projected up into the night sky can also attract birds.
Take the Pledge!

I pledge to help "Give Wings to Wildlife Conservation" by participating in the CWF B.I.R.D. (Bird Impact Reduction Day) initiative on April 11.

Daytime
Daytime collisions far outnumber nighttime collisions.
Bird collisions with windows during the day is a leading cause of bird death across Canada, second only to cat attacks.
Homes account for over 90% of these deaths.
Observations by FLAP Canada bird rescue volunteers conclude that the vast majority of daytime collisions at commercial structure tend to occur up to 16 metres above grade.
THE SOLUTION:
Things you can do to help save the lives of birds:
Log Your Observations!
The Canadian Wildlife Federation wants your help in keeping track of collisions between birds and buildings. Our B.I.R.D. initiative is designed to help track the instances of bird deaths caused by collisions. We will share this information with our partners at FLAP Canada.
Turn off work space lights when not in use.
Draw blinds and/or drapes when working at night.
Work with downward angled task lighting and turn off overhead lights.
Urge your building manger to invest in motion-sensor lighting technologies.
Urge your building manager to extinguish all architectural, landscape and roof-top lighting during bird migration seasons: March through May and August through October.
Urge your building manager to initiate an educational program to promote light reduction strategies to help save bird lives -- money -- and reduce CO2 emissions.
Urge your building manager to invest in bird deterrent technologies for daytime window collisions that meet FLAP Canada's Standard for Visual Markers http://flap.org/commercial_new.php
Urge your local Councillor to adopt BirdSafe™ Building Guidelines and Standards in your community (see the City of Markham's Bird Friendly Guidelines).


Download step-by-step instructions »

At home, apply visual markers to your windows that meet FLAP Canada's Standard for Visual Markers.
Place bird feeder(s) 1 metre or less OR 10 metres or more from your windows and keep your cats indoors.
Read more about bird collisions with windows:
Help Stop the BIRD Cat-Astrophe!
Imagine the hazards of being a bird during its migration of hundreds or thousands of kilometers. Aside from exhaustion, other hazards include colliding with a building or, even more likely, being caught and killed by a predator. Each year in Canada, domestic cats kill approximately 200 million birds! Talk about a cat-astrophe!
Besides all the things you can do in homes and offices to reduce bird collisions, here are a few things you can do to keep your cat from becoming a bird killer:
When you own a cat, consider keeping it indoors for its own safety and to reduce risk of bird predation.
If you have an outdoor cat and are having difficulty converting your cat to be indoors, consider installing a screened-in cat patio – a.k.a. the catio!
Until the catio is installed, attach a cat bib to your cat's collar. This bib will reduce the chance that your cat will catch a bird.
Resources:
Catio:
AnimalPlanet.com
Cat Bib :
CatGoods.com