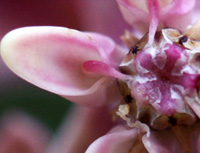 CWF's monthly Photo Club contests offer members additional chances to win fantastic prizes with winners chosen by popular vote. Themes and prizes will be revealed on a monthly basis.
To enter the contest you must first be a member of CWF's Photo Club. Already a member? Sign in ». Want your photo to win? Rally the troops!
Send this page to a friend and get them to vote for you! Because this year's monthly themes are quite specific, photos will be removed at the discretion of CWF if they are not in keeping with the photography challenges.
This year, we've created themes for every month that reflect a different element of wildlife! How will your photographs reflect each monthly theme!
September
Lost in Layers
Layers make you linger while viewing a photo. When you layer focal points in a complex photo, you draw the viewer in. So what will you come up with this month? Layers of feathers on a bird? Layers of autumnal colour in a forest? We can't wait to see.