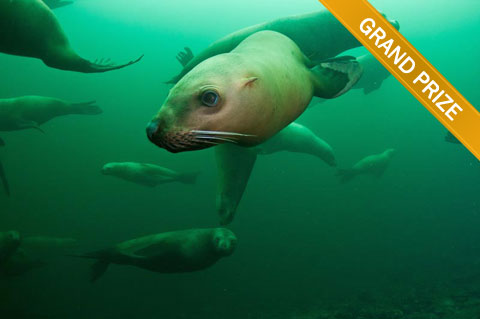 Photographer: Derek Bissell Wayne
Location: Nanaimo, BC
Class: Fauna
"The sea lions were gathering waiting for the spring herring run. There had to be upwards of one thousand of them spread out through the bay and at times probably one hundred within visual distance underwater. For about three weeks prior to the herrings arrival the sea lions just wanted to play and harass us. Once the herring arrived they totally changed and wanted nothing to do with us, it was time to get down to business I guess."
Photographer:
Marianna Armata
Location:
Pierrefonds, QC
Class: Flora
Photographer:
Carla Whiteside
Location:
Lethbridge, AB
Class: Flora
Photographer:
Victor Liu
Location:
Calgary, AB
Class: Flora

Photographer:
Isabelle Marozzo
Location:
Norland, ON
Class: Fauna
Photographer:
Darren Langlois
Location: Yellowknife, NT
Class: Fauna
Photographer:
Kevin Nugent
Location:
London, ON
Class: Fauna

Photographer:
Debbie Oppermann
Location:
Guelph, ON
Class: Urban
Photographer:
Susan Enders
Location:
Camlachie, ON
Class: Urban
Photographer:
Nathalie Duhaime
Location:
St-Eustache, QC
Class: Urban

Photographer:
Mykhaylo Lytvynyuk
Location:
Ottawa, ON
Class: Landscape
Photographer:
Les Kalman
Location: Kilworth, ON
Class: Landscape
Photographer:
Victor Liu
Location:
Calgary, AB
Class: Landscape