Chipmunk Captions Contest Winners
This little hoarder made for plenty of buzz. Here are our favourite picks!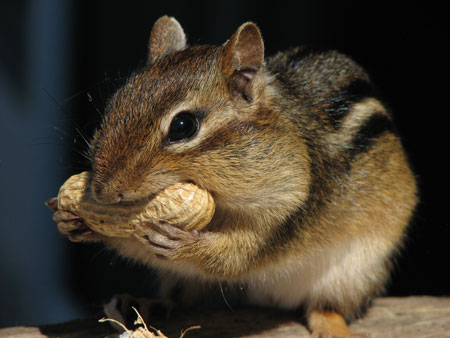 Photo: Jocelyne Hallé
And they say size doesn't matter!
Ingrid Desroches | Scarborough, Ont.
Carpe arachid! / Seize the peanut!
Michele Provenzano | Surrey, B.C.
I'm sure glad this is not a peanut free factory!
Ruth S. Smith | Kingston, Ont.
Ce que les humains laissent éparpiller un peu partout, je m'en fais une régalade.
Jacques Fournier | La Malbaie, Que.
One down, 999 to go.
Phil Loucks | Peterborough Ont.
Eat your heart out, squirreling hoarders, this peanut has my name on it.
Jocelyn Boileau | Winnipeg, Man.
Does this peanut make me look fat?
Cathy McColl | Waterloo, Ont.
Hmm, excessive packaging.
June Wade | Penniac, N.B.
If I only had pockets.
Pam McEwin | St. Albert, Alta.