The Rowers
Meet the Crew
Photo by Erinn J. Hale
Jordan Hanssen
Team Captain
Born: Mobile, Alabama
Currently resides: Seattle, Washington

Jordan is an author and adventurer who has biked across Australia, rowed around Vancouver Island and the Olympic Peninsula, and spent some time walking and canoeing with his brother down the Rio Grande.
Jordan's first book is out his 2006 Guinness World Record breaking row from New York to England. It's called Rowing into the Son. He has also written stories such as The Waterless about his hardest day biking across Australia and Oariffic Tale which talks about a crash landing of a tiny rowboat in the waves of the Washington Coast.
Photo by Erinn J. Hale
Adam Kreek
Born: London, Ontario
Currently residing: Victoria, British Columbia
Adam won a gold medal at the Beijing 2008 Olympic Games. Over 13 years of rowing, he's won over 60 medals – and more than 40were gold. Recently, Adam was named Athlete Leader of the year at the 2010 Canadian Sports Awards.
A self-described "positive realist," Adam has spoken to over 100,000 people across North America and Western Europe on topics of achievement, leadership and teambuilding. Adam is a member of the Global Association of Professional Speakers, and is writing a book.
Adam is a past Board Member of the Canadian Olympic Committee. He is eager for this ocean challenge to satisfy his love of rowing and help raise awareness of conservation for the Canadian Wildlife Federation.
Adam holds a degree in Geotechnical Engineering and Hydrology from Stanford University.
Photo by Erinn J. Hale
Markus Pukonen
Born: Toronto, Ontario
Currently residing: Tofino, British Columbia
Markus' background in filmmaking and human-powered adventures provides him with a unique lens through which to view and record life at sea on a rowboat. Although he just started rowing in the spring of 2012, he is an adventurer at heart, having climbed Huayna Potosi (6080m) in Bolivia, biked 2,500km of the US Pacific coast and standup paddleboarded across the Georgia Strait (55km) in 10 hours. In the summer of 2012, he journeyed to the Top of the World with the Canadian Wildlife Federation to film Canada's most northerly national park, Quttinirpaaq, Nunavut.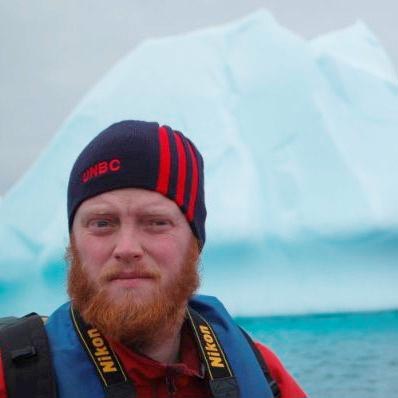 Photo by Erinn J. Hale
Pat Fleming
Born: Philadelphia, Pennsylvania
Currently residing: the states of Colorado and Washington
Pat brings a varied professional experience working in outdoor adventures that include, but are not limited to skills as a wilderness EMT, and avalanche control. Love for deep powder and white water has kept him jumping for the last four years between rafting and rowing on Colorado's Arkansas River in the summer, and Crystal Mountain, Washington's Ski Patrol in the winter.
For more information on the rowers visit OARNorthwest.org