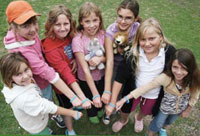 Sporting CWF wristbands, the seven Grade 4 girls from Tavistock Public School demonstrate real teamwork, together helping care for Canadian wildlife. (From left to right) Cassandra Rudnick, Alyssa Bender, Madison Biggin, Joanne Marshall, Candice Wittig, Emelia Rudnick and Gavrielle Gray.
Rather than request the latest toys or trendy clothes for her tenth birthday party, Candice asked six friends to follow her example and donate to the Canadian Wildlife Federation. The troupe of fourth graders raised a whopping $100 — a sum that will assist CWF's wildlife conservation efforts.
The enthusiastic group of girls celebrated the success of their donation with a trip to "Build a Bear" in Fairview Mall, Kitchener. However, it is the generosity of Candice and her friends that is helping shape a better environment for real bears and other wildlife to survive and thrive in.

And this isn't the first we've heard of Candice either. An avid nature lover, concerned about the state of endangered species, she has independently donated her allowance to CWF several times before. By getting her peers on board to make a difference for wildlife as well, Candice proves it's never too early to shape a bright future for critters and Canadians alike.
Visit www.hww.ca to learn more about different Canadian species.